Carnegie Book Award Event
On Friday 17th June, Clyst Vale Community College hosted an inter-schools Carnegie Book Award Event. This prestigious annual book award, widely regarded as one of highest accolades a children's writer or illustrator can achieve, is unique in that the long and short lists are chosen by librarians to celebrate the most compelling and innovative new  books for children and teens. This award is nationally supported with local secondary schools holding Carnegie events, where each school performs one of a books from the shortlist at a host school. This year, Clyst Vale played host to four other colleges in East Devon with a variety of books being performed. All the performances were excellent and we are especially proud of our Clyst Vale year seven group who chose to perform 'Five Children on the Western Front' by Kate Saunders. This is a modern sequel to the children's classic 'Five Children and It' by E. Nesbit and follows the children as they grow up to face the challenges of World War One, accompanied by the grumpy sand-fairy Psammead who must learn,through a  series of  magical 'lessons', the power of repentance and love.
Our year seven group worked collectively with the Literacy coordinator, Nathan Simpson and the Librarian, Sarah Foulds to create an excellent representation of the book through a series of performance techniques, including film, artwork, acting, an historical context PowerPoint and dramatic reading. We are so impressed with the level of commitment shown by the group and the amount of innovation demonstrated to create a compelling performance.
We were also delighted to host Tamsin Cooke, a debut author, whose first book, 'The Scarlet Files: Cat Burglar' is an exciting read about a teenage girl, who follows her dad in the family business of cat burglary, stealing back ancient artefacts to restore them to their rightful owners. This is sure to be a hit with our students and we eagerly await the second book in the series which will be released in July. Tamsin, very kindly agreed to come and judge all the book performances and to talk about her trials and tribulations in her journey to become a published author.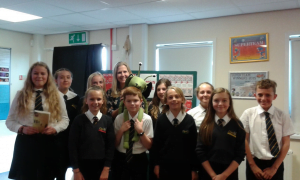 Year Seven Carnegie group, with Tamsin Cooke: Alice Wooldridge, India Ross, Emily Taylor, Madeline Jeffery, Lilly-Mai Schamroth, Flossy Voaden, Ethan Wheatcroft, Joe Hartley, Emily Lyon and Harrison Ware and of course, The Psammead.