On Wednesday 17th October we held a Local Democracy event for our year 12 students.
The event was organised by Steph Lewis, a former student of ours, who now works for East Devon District Council. Three local District Councillors started the meeting by talking about their work. We then had speakers from our Year 12 Government and Politics class. They had prepared speeches and answered questions. All four groups did brilliantly.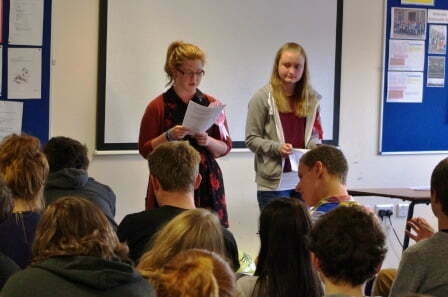 The speakers were
Frazer Loveman ( Supported by James Tancock)
Bradley Lavis (supported by Amy Gale and Tara Cheetham)
Sam Sharpe (supported by Elle West )
Frida Gronvold and Jemima Hardwick.
Votes were then cast by all of year 12. The winning team (Liberal Democrats….Frazer and James) won a tin of chocolates. In a true spirit of Political consensus the chocolates were shared between all of the candidates. It was an excellent meeting!
{gallery}departments/Governmentpol/councilphotos{/gallery}