Day of Tolerance, 5th December 2014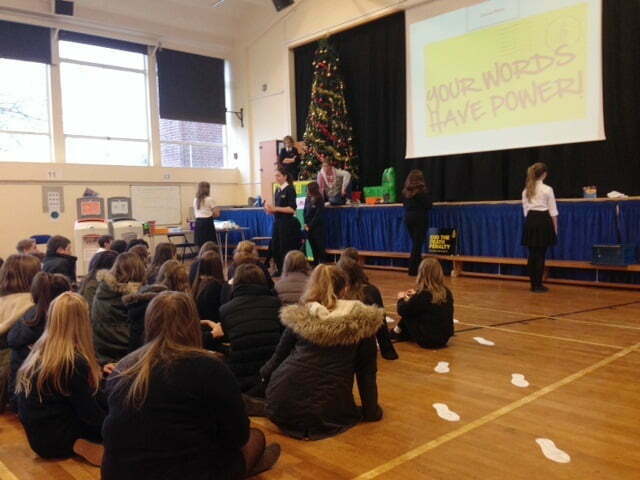 They say a picture paints a thousand words, and this applies to a photo. Clockwise, from the mid-left of the photo…
Wall posters. The student Amnesty group had organised information sheets about tolerance as a concept and about Amnesty case-studies, activity sheets, and a wall of reflection all around the room.
Table of goodies. To raise money for Amnesty's good causes, the student group sell cakes, sweets and their trademark hot chocolate.
Students performing a drama piece. Again, the Amnesty student group devised and presented a short drama piece about tolerance and intolerance in a school setting. The theme was how thoughts become words become actions, and that bullying and name-calling are examples of intolerance.
The Christmas Tree. This is part of the College's decorations. However, Amnesty is a secular organisation which does not put one faith higher than another. One of the case-studies was of a Muslim human rights lawyer, imprisoned with 93 others without trial for opposing the more militant Islam of their government in the UAE.
Miss Watt (sitting on the stage). Miss Watt is the driving force behind Amnesty at Clyst Vale, and it is thanks to her that the group is so high-profile, promotes the values of the College, and enriches our curriculum. She also coordinated the whole day, and contributed both ideas and leadership to the group, although she would be the first to acknowledge how fantastic the students have been.
The audience. It is not possible for all teaching groups to attend the presentations during lessons 1-4, but several did. Many other students visited at break and lunchtime. This is important, because the Amnesty group is contributing to the College in a big way, by explaining and reinforcing the idea of tolerance, how it ranges from bullying in school to imprisonment without trial, increasing awareness of the work of Amnesty, and helping students understand human rights and liberty.
A photo does not capture atmosphere, however. It was a great day, which went very well. Yes, there was hot chocolate, staff performing on stage at lunchtime, and a lot of fun, but there was also real learning and understanding, not to mention some superb mature reflections about the whole idea of tolerance and how it affects us.