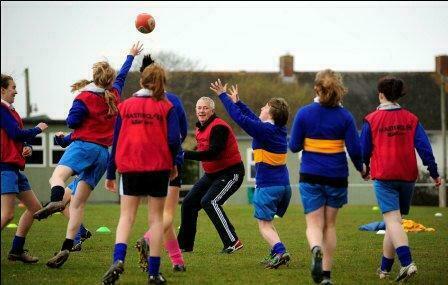 Last Thursday, the Exeter Chiefs, in association with AVIVA and ESPN, Premiership Rugby sponsors, delivered a coaching clinic to over 140 boys and girls in Years 7, 8 and 9. Within the 2-hour session, students were coached on their tackling, evasion, passing, rucking, mauling and kicking skills. Nick Mullins (ESPN Head Commentator) stated how impressed he was with the level of commitment, skill and the sheer numbers of players within only the lower end of the school. The day was a reward for the hard work which the boys and girls have put in throughout the year by regularly attending club sessions at lunchtimes and after school.
The programme culminates with the AVIVA Premiership Final at Twickenham on 26 May, with Toby Goodwin and Lucy Bourne, alongside their BCC School Report commitment, being selected to represent the college at the national ESPN Roadshow coaching event before the game, receiving tips from ex-England players Austin Healey and Ben Kay. Watch this space to find out how they got on!!
Well done to all the students involved.
{gallery}departments/PE/masterclass{/gallery}