Y11 Boys are U16 Devon Schools Runners-Up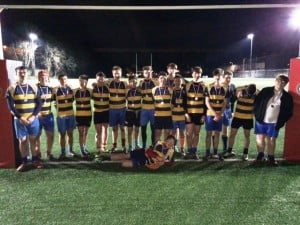 Y11 Boys v Ivybridge College
Devon U16 Cup Final @ Keyham Sports Ground, Plymouth
The Year 11 boys found themselves in the County Cup Final on Monday evening in Plymouth due to previous round wins over Hele's School and Churston Grammar. A semifinal walkover meant a daunting game against a very strong Ivybridge College side who had dispatched many teams before them by many points!
Despite a very heavy defeat, the boys were excellent, displaying huge amounts of character and resilience throughout, in a game where they rarely touched the ball! Mentions for outstanding tackles must go to Y10 players Tom Bradner, Luke and Reece Boots-Hutchings as per normal, and Sam Chambers, Jed Wright, Nathan Smeath and Callum Cross, who did not shirk a tackle all evening. Even though the score line was very one sided, the game will serve long in the memory for all of the squad who will rarely play against such a strong and well drilled squad. The fact that they can say they have played in an U16 Cup Final is not to be sniffed at!!
Well done to all of the squad: Jed Wright (c), Adam Rowe, Callum Cross, Nathan Smeath, Max Hewstone, Jonny Farnsworth, Luke Boots-Hutchings, Matteo Amatuzzo, Nathan Elliott, Reece Boots-Hutchings, Sam Chambers, Kain Cole, Reece Wittington, Ryan Sowden, Tom Bradner, Kirk Charlton and Josh Pittham.
Watch this space for updates of the Y11 side's progress at Rosslyn Park 7's on Tuesday next week!
Mr Pearce