Eco Team Waste-Free Lunch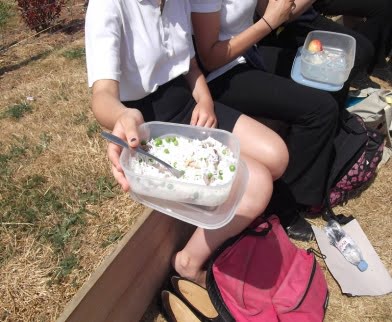 The Eco Team enjoyed beautiful weather for their end of term 'Waste-Free Lunch.' Mr Greig kindly carried out a very scientific analysis of each student's after-lunch waste by accurately weighing it. Reusable washable containers counted as zero as did compostable fruit waste.
There was one truly waste-free lunch as Josie scored zero with all her containers and cutlery being reusable and washable. Well done Josie!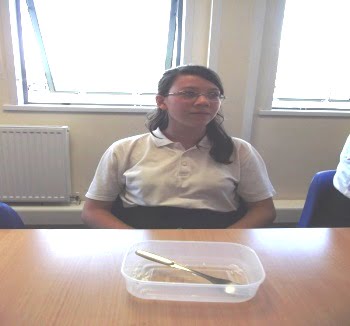 On the left is a photo of Josie Creedy-Pearne's very tasty looking lunch. After lunch all Josie had to do was take her container and fork home to wash ready to use again.
We would like everybody to aim for the same type of lunch to help us push down the amount of waste we are sending to the landfill site. The good news is that waste-free lunches also tend to be healthier!!
Elisha Salter and Teoni Williams also did very well. Elisha had 0.9g of waste and Teoni 2.5g. Well done to both of them and everyone else who took part.
After lunch we took shelter from the very hot sun by going indoors to take part in an Eco Quiz. We found out lots of interesting facts such as, 25 recycled 2 litre plastic bottles can be used to make a fleece jacket and that each year in the UK we throw away 8.5 million perfectly good toys. What a waste!
Thank you to Mr Greig and Miss Borny for their help and to everyone who took part in the fun. I would also like to thank everyone who has helped us to establish the first Eco Team at Clyst Vale. Special thanks go to Sally Jackson from Resource Futures who helped us carry out our first Waste Audit and guided us through the process of installing the new recycling system. I look forward to our next waste audit in October when hopefully we will find that our recycling rate has increased substantially.