GIANTS IN THE SKY AT THE BARNFIELD THIS MARCH
Clyst Vale Community College is thrilled to return to the Barnfield for a fourth year to perform the magical Stephen Sondheim musical Into the Woods.
The musical is inspired by the Grimm Brothers' fairy tales of "Little Red Riding Hood", "Cinderella", "Jack and the Beanstalk" and "Rapunzel" and is centered on a childless couple, who set out to in search of ingredients for a potion that will end a curse placed on them by a vengeful witch. During their adventure in the woods, the characters are forced to face up to the consequences of their actions and find a path to happiness.
The musical is very similar to the film starring Meryl Streep and Johnny Depp, but this family friendly production is full of theatrical magic and is a perfect treat for all ages.
Clyst Vale Community College has developed a reputation for presenting exceptional quality youth theatre and their productions have become a regular feature on the Barnfield calendar.  Previous productions have included Les Misérables School Edition, Sweeney Todd, The Addams Family and last year's Sweet Charity.
Anna Ruscoe, Director said "The students have worked tirelessly in rehearsals and are determined to make our production of 'Into the Woods' as professional and magical as possible. We are extremely fortunate to have an amazingly talented and supportive production team made up of volunteers from our local community.  Their enormous generosity really does ensure that all our wishes for a fairy tale production come true."
Josie Tapp, who plays Cinderella, said "It has been a fantastic opportunity to be involved in this production, seeing the show come together so well has been brilliant!"
Joe Durston, who plays the Baker, said "The productions at Clyst Vale are always of excellent quality and show week is an amazing experience."
Laurie Walker, who plays Jack, said "There are Giants in the Sky. Come to the Barnfield this March to find out why!"
Into the Woods runs from 10th -12th March at 7pm with a Saturday matinee at 2pm at The Barnfield Theatre, Exeter. Ticket prices: £10 adults, £8 children.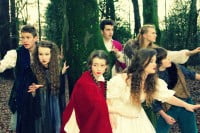 'Magnificent and truly inspirational with a superbly trained cast' (Les Misérables School Edition, 2012)
'This was inspiration and entertainment worth every penny from dedicated students who put the same energy and professionalism into the performance on stage and in the orchestra as you would get from the best musical theatre groups'  (Sweeney Todd, 2013)
'Thank you so much for your wonderful production of The Addams Family. The standard of the acting and singing was phenomenal. What a great choice for a production, a very entertaining show.' (The Addams Family, 2014)