Ten Tors 1st Overnight Camping Weekend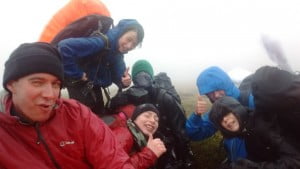 The Ten Tors training continues and is increasing in intensity up to the main event in May 2016.  Here's William Selley-Steer's account of the most recent training weekend:
After four training days on Dartmoor last weekend, it was our first overnight stay with the other members of the Clyst Vale Ten Tors training group. As you can recall the weather was very wet and windy which made the 35 km trek over rough terrain very challenging. After the first day's walk and getting slightly lost a couple of times we were very tired. We had to pitch our tents and cook our own dinner.

After setting up camp we ate, talked and joked about the day.  Feeling really tired we all got our heads down and got a good night sleep. The next day was just as hard with the weather being much the same as the first day. After lots of effort, aching legs and wet feet we had made it. Driving home with our muddy, wet kit and still wearing our damp clothes we all felt a brilliant sense of achievement. My parents told me they were really proud and that the weekend was character building. I think I can say that I agree with them. 
William Selley-Steer 9RGG