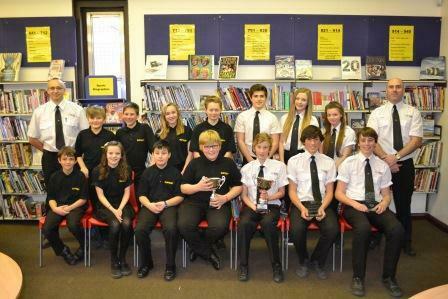 On Tuesday 3 February our national champion team became South West Regional Champions for the second year in succession, and our team in the Beginners Class also won. This is a massive achievement, and both teams will represent the South West region at the National Finals in March.
I must say how proud I am of our students, and how appreciative of the inspirational guidance of Mr Hewlett and Dr Turl.
Dr Bawn
Report from Mr Hewlett
On Tuesday 3 February two teams from Clyst Vale Community College competed against others from the South West region at Exeter University, in the Jaguar Land Rover 4×4 in Schools engineering challenge.
Both teams have engineered four wheel drive vehicles which had to negotiate a very challenging track to test the improvements they had made, including: four wheel steering, composite chassis and body shells, on board processors controlling light and tilt sensors, vacuum formed and 3D printed components. Further to this, the teams were scrutinised rigorously by expert judges on their engineering knowledge and application, and also formally presented their work to an expert panel of industry professional judges.
Both teams will now progress to the National UK Championships to be held at the Heritage Motor Museum in Warwickshire in late March, where they will again compete on three tracks, and present their work alongside 26 other schools from the length and breadth of the country. This year there is also the possibility of progressing to the inaugural World Championship to be held in the summer.
For more information, or if you would like to offer support, please visit @clystvale4x4 on twitter, www.4x4inschools.co.uk or email
{gallery}departments/DandT/4×40215{/gallery}