Good News from a Former Student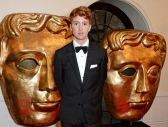 Luke Newberry has been nominated for a leading actor BAFTA award for his work in the BBC production "In the Flesh". Luke was a student at Clyst Vale Community College from Year 7 to 11 and his family live in Broadcyst.
The photo shows Luke arriving at the BAFTA nominees' party in London on Sunday 27th April.
"In the Flesh" has also been nominated in the best series category. The decisions will be announced in the middle of May.