Aspiring Lawyers on University Programme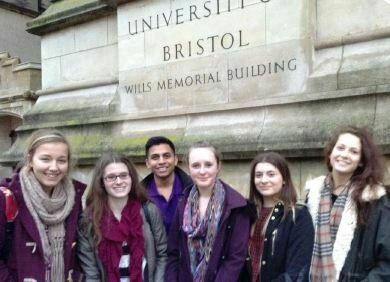 Two Year 12 students, Hannah Grinstead and Tuesday Alibaidi are currently on a two year Pathways to Law programme run by the University of Exeter for students interested in becoming lawyers. Below is their account of a recent trip to Bristol University to take part in 'THE DEATH DEBATE'.
On 5 February, we braved the worst weather of the year to travel to Bristol.
The plan was that we would arrive in Bristol by lunchtime, have a tour of the university and then join the University of Bristol Pathways students for the afternoon activities, but unfortunately things didn't quite work out like that… The combination of flooded roads, fallen trees, persistent rain and our coach driver's "legal break" meant that we ended up having lunch at a motorway service station and arriving in Bristol almost 2 hours late!
Despite all of that, the afternoon was really enjoyable and interesting. It was split into two parts – a lecture, and then an interactive workshop – focussing on the moral and legal issues around end of life decisions, particularly assisted suicide and euthanasia for people with terminal illnesses. The lecture provided an overview and an introduction to the topic, discussing cases such as Diane Pretty, a Motor Neurone Disease patient who took her case to the House of Lords and European Court of Human Rights arguing that her husband should be allowed to help her to end her life. In the workshop, we applied the legal principles to a fictional case involving a prisoner who was on hunger strike, debating whether or not he should be forced to eat and drink, and in what circumstances it might be lawful to force-feed him. This also led to some heated discussions about prisoners' rights!
After the workshop, we had a short tour of the Law School in the impressive Wills Memorial Building, which we all agreed looks like something out of Harry Potter, before beginning the marathon journey home…