Clyst Vale trials new face-masks for DCC
Our Hearing Support Centre/ Sensory Support Hub team is taking part in Devon County Council's trial of some specialist PPE – in this case, clear face masks.
These masks are particularly valuable for staff working with hearing impaired students, who rely on using lip-reading as an integral method of communication. The plastic used is non-reflective, as the shiny plastic used in previously available clear masks was prone to glare.  Cutting out the glare should increase the possibility of lip-reading and improve overall effectiveness.
Staff will be trialling these masks and then feeding back to DCC about how useful they found them, in their particular specialist setting.
As soon as the masks arrived yesterday, Mrs Angell and Mrs Manaton were keen to try them out – Mrs Manaton even let us take her photograph!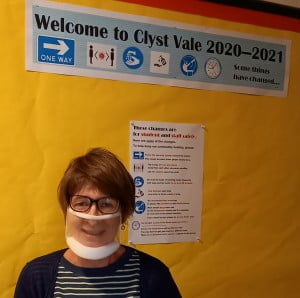 Mrs Manaton wearing her anti-glare clear face mask