Inspirational…on a different level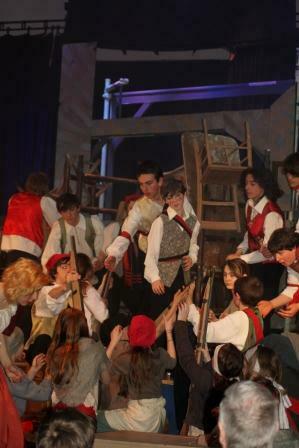 Last week's four productions of Les Misérables (School Edition) were outstanding, and earned massive amounts of praise from those fortunate enough to attend. The show was sold out on three nights, and received a standing ovation on all four.
The principal performers rose marvellously to the challenge of their demanding roles, while the lesser roles and chorus members acted their socks off. One audience member commented that the quality of the acting was far more impressive, and explained nuances of the story more clearly, than sometimes seen on the West End. The orchestra, almost all students, some in Year 7, were magnificent: the music is challenging and constant, so the orchestra were in position for three hours at a time. The stage crew and backstage support contributed enormously to the success of the show, and the technical crew, mostly volunteers, did a fantastic job.
Perhaps the biggest tribute came from audience members who commented that they became 'completely lost' in the story – this is remarkable, as most people attending a school production are usually aware they are in a school hall!
It was far more than a show. This performance of Les Misérables has spread the reputation of Clyst Vale widely; it has demonstrated the extraordinary skill, talent and commitment of our students – but also young people in general; and it has been a tremendous example of how Clyst Vale's community can pull together both practically and in spirit.
The production team was Anna Ruscoe (Director), Emma Williams (Musical Director) and Peter Popert (Production Manager).
Everyone is asking, how will they follow this……..?
{gallery}departments/Music/lesmis{/gallery}