AQA 'Unlocking Potential' & Dame Kelly Holmes Trust
AQA "Unlocking Potential" – Wednesday 3rd December, Guildford
On 3rd December, Mrs Oldfield and Mr Sutton took a group of 4 CVCC students – Polly Hurren, Ryan Butler, Charlie Wood and Harry Thompson – to the AQA 'Unlocking Potential' event in Guildford.
The programme is run in connection with the Dame Kelly Holmes Trust, providing mentoring for young people who stand to benefit from the opportunity to work with a designated local mentor.  We were delighted to discover that our students' mentor is the local elite Paralympic athlete David Hill, who for 15 years competed at the highest level as a swimmer and triathlete.
Our students will embark on an eight-month programme, to build confidence, skills and "unlock potential", which also incorporates social action and community projects.  This will run from now until July.  Excitingly, the students' first mentor meeting is scheduled in before Christmas, on Wednesday 18th December – when we look forward to welcoming David Hill to Clyst Vale!
On her return from Guildford, Mrs Oldfield said: "I had a super day yesterday and the students really did understand how life changing this process could be for them".
Congratulations to the students involved, who did an excellent job as ambassadors for Clyst Vale, representing the school in the best possible light and making the staff who accompanied them feel very proud of their enthusiastic contributions throughout the day.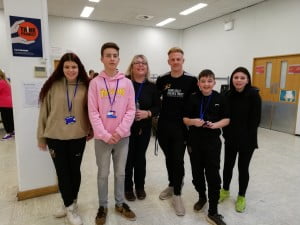 Polly, Ryan, Mrs Oldfield, David Hill, Harry and Charlie
Please use the links below to find out more about:
AQA Unlocking Potential Programme (supported by Dame Kelly Holmes Trust)
AQA Unlocking Potential & Dame Kelly Holmes Trust
David Hill – elite Paralympic athlete (our mentor)