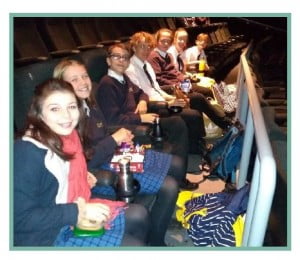 A group of Clyst Vale students recently went to see 2040 at a film festival event. Click the link below to see more.
2040 Review
2040 is a climate change documentary that deviates from the convention. Instead of aiming on the worst case scenario, 2040 focuses on the solutions that already exist that could solve climate change. The narrator, Damon Gameau, addresses to his four-year-old daughter in almost a one-way conversation throughout the film, imagining a bright future when world governments and leaders work together to solve the climate crisis.
At the start of the documentary, he admits that we are experiencing a total climate breakdown and that we have been ignoring it for over 50 years. However, he immediately provides a glass-half full approach, stating that we can make a brighter and better future.
Damon explores 6 different solutions – most of which community-based – including renewable energy schemes, regenerative farming techniques, marine permaculture, empowering women, donut economics, and improved transport infrastructure. As he focuses on each scheme, he envisages an idealist future where these projects have been fully implemented into society, showing what a day in the life of someone who lived in such a world would look like.
The most notable solution Damon explores is the empowerment of women. He explains that: "by ensuring that all girls and women have access to education and family planning, they are empowered to earn higher wages, become more independent, actively manage their reproductive health and have fewer and healthier children, consequently slowing down the population growth." Population size is a key factor in climate change as, with a higher population, there will be a higher demand for resources such as energy, food, and shelter. This creates a negative effect to the population's ecological impact as these demands will increase greenhouse emissions.
Damon also interviewed the economist Kate Raworth who wrote the book "Donut Economics". In her book, she came up with a new framework to our economy that looks like a donut. She suggested the hole in the middle of the donut represents where people cannot afford essentials to life such as health care, housing, and shelter. Also, she said that we must stay within the outer ring which represents the earth's ecological boundaries. This essentially creates a goal for humanity to get everyone out of that hole in the middle while staying in the boundaries of earth.
Both of these solutions directly link into the UN's sustainable development goals and will solve both the climate crisis and social justice.
Overall, the documentary is positive, and Gameau keeps the atmosphere optimistic. This breaks from the convention of gloomy and dystopian climate documentaries and really inspires those who watch it. I highly recommend watching 2040 if you're interested in how we must solve climate change and many other world issues.