Sam Wincott wins SWIFT Student Challenge 2019
Thanks to Judy and Steve Wincott, parents of Sam Wincott, who got in touch to tell us about Sam's recent success in a competition run by The Swift Institute.
Sam left Clyst Vale in the summer of 2016 having successfully completed A-levels in Computer Science, Maths, Further Maths & Physics. In September 2016 he began his undergraduate studies at Cardiff University, where he is now in his fourth year of a Bachelor of Science degree, majoring in Computer Science. Sam spent his third year working with UK 'Superbrand' Equiniti (a services and technology outsourcing company).
The Swift Institute Student Challenge is an annual competition within the financial services sector, currently in its fourth year. Each year it attracts entries from undergraduate students across Europe on its chosen theme. This year, their theme was "How can artificial intelligence improve fraud detection and prevention in instant payments?"
Sam entered as a team of one, and was shortlisted for the final along with 4 other student teams. He was invited to present his idea – named 'Asimov' – alongside the other finalists, at the prestigious Sibos conference (billed as "the world's premier financial services event"!) It attracts speakers from around the world, from the CEO of Hong Kong Exchanges and Clearing Ltd (HKEX), to the former MI5 Director General, to Olympic champion Dame Kelly Holmes. This year the event was held in London, at the Excel Centre.
Sam's idea enables the augmentation and anonymization of data which results in improved usefulness, quality and quantity of the fraud-detection information that is generated. His method involved the use of a machine learning system called GANs (Generative Adversarial Networks); the end result gives institutions the ability to share data without falling foul of data protection regulations, allowing them to develop more reliable and robust systems for fraud prevention.
Judging of the final was carried out by the Swift Institute and Google – with Sam being announced as the overall winner.
Huge congratulations to Sam on his amazing achievement, and all the very best for what looks like and incredibly promising future career!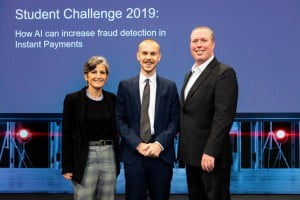 Sam (centre) having been announced the winner of the SWIFT Student Challenge 2019
Links
Interesting links below to read more about the organisations and events mentioned above.
SWIFT Institute Student Challenge