Buzzing Year 7 on a exciting Space day!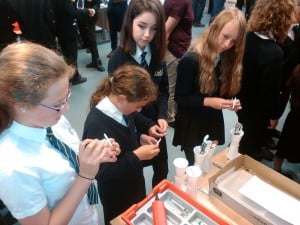 On Wednesday 18th of June, 16 year 7 students had a fantastic space-themed day at Exeter College. The students explored space in an inflatable planetarium, did two workshops on rocket science and the life of an astronaut run by the National Space Centre, enjoyed a talk about planets and exoplanets given by Exeter University Astrophysics researchers, and had fun with lots of hands-on activities run by Physics outreach-trained A Level students.
"It was an amazing day, I learnt so much! I am not usually very interested in space, but this has definitely changed my tune!" Lily Roberts 7GIQ
"I learnt loads of interesting things: exoplanets and what they are, the International Space Station and what life is like in space, Astrophysics and what you need to be good at to make a career out of it, stars and planets, and much more! My favourite part was the planetarium. It was an amazing experience, I thought I was in space!" Lara Gimbuta 7GHE
We all finished the day buzzing with new ideas and experiences to share with our peers!
Pearce and A. Odunlade, Science Teachers, Clyst Vale Community College