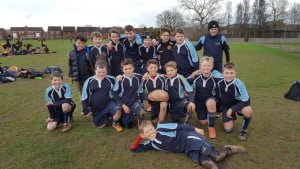 Year 7 Boys @ Exeter & East Devon School's Festival
Congratulations go to the Year 7 boys who competed well at the recent U12 festival at St Peter's School, Exeter. Despite a tough day, they battled well and continued to grow their rugby experience, gaining the following results:
Clyst Vale 10-15 St Lukes
Clyst Vale 15-10 West Exe
Clyst Vale 5-15 St Peters
Clyst Vale 0-15 Uffculme
Clyst Vale 10-15 QECC
Well done to all of the squad: Dom Boots-Hutchings, AJ Medcraft, Harri Turner, Joseph Tandy, Tom Lockett, Josh Worlin, Luke Williams, Jack Galliford, Tom Massey, Will Franchi, Harrison Coles, Remi Morcrete, Joeseph Welch and Jesse Davey.
Clyst Vale U15 Girls finish Runners Up in Exeter & East Devon Festival
Congratulations to the U15 girls who progress to the Devon Finals at Topsham RFC on Wednesday 1 March, losing only one game in six. The girls played really well as a squad, gaining a lot of plaudits from several coaches and teachers at the event. Results were:
Clyst Vale 20-0 QECC
Clyst Vale 20-5 Uffculme
Clyst Vale 0-10 St Peters
Clyst Vale 25-0 QECC
Clyst Vale 5-5 Uffculme
Clyst Vale 15-0 Okehampton
Well done to the squad: Emily Blatchford, Lauren Harker, Shannon McIllroy, Ebony Hayler, Megan White, Dulcie Sanders, Jasmine Burwood, Lauren Elliot, Lenni Bashford, Rosie Pring, Rachel Champion, Georgia Sheldon-Smith, Rowan Greaves, Ellie Bradner and Eloise Blatchford.
Year 9 Boys Rugby 7's
The Year 9 lads finished runners up at a local fixture last Wednesday at St Peter's School. In a warm up for their upcoming attendance at the Rosslyn Park Rugby 7's tournament in London, the boys did well to beat Tiverton and St Peter's B comfortably, however lost narrowly to St Peter's A 10-7 in their first game.
Well done to the squad:
Ben Parsons, Joe Blackburn, Charlie Sparkes, Tre Campbell, Barnaby Bilton, Fin Potter, Alex Rogers, Harrison Tarrant and Zack Killian.
Mr Pearce
Teacher of PE