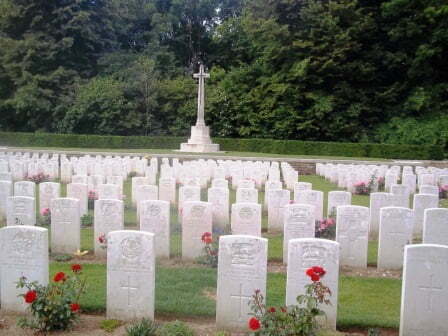 We set off on Tuesday 23rd June, unaware that our journey was going to be a little more eventful than we had hoped. Due to strikes in Calais our travel on Eurotunnel was delayed by four hours. Our 41 students responded magnificently to this showing great resilience and stoicism. A great cheer went up when we were eventually told that we could leave the car park and get on the Calais bound train.
Although we were delayed we were able to reschedule events and we did all that we set out to do. On Wednesday we went to the Somme battlefields. Eleanor Sansbury's family had done some research on family members who had fought in the First World War. We were very pleased that our French guide was able to take us to the Connaught Cemetery on the Somme, where Eleanor was able to see the grave of her great uncle, WT Senior who was killed on 3rd September 1916 at the age of 22. We then went to the Newfoundland Regiment memorial and walked in original trenches where Canadian students acted as our guides. We also visited the Passchendaele Museum and saw recreated trenches and many interesting artefacts. On Wednesday evening our driver took us to Ypres and Maddy Ross and Chris Perry represented all of us at Clyst Vale by laying a wreath at the Menin Gate.
Our Thursday was equally busy. We were guided through the Ypres Battlefields by Simon Louagie who runs the Peace Village Hostel in Ypres. Simon met Harry Patch and shares my views on the importance of honouring his memory, and he took us to Essex Farm, the Harry Patch Memorial at Langemark. Our wreath there was laid by Mollie Tillett, Jake Faulkner and Peter Feehan. In accordance with Harry Patch's instructions to "remember the fallen on both sides of the line" we also visited a German Cemetery near Ypres. Our final stop was at the largest Commonwealth War Cemetery at Tyne Cott, the scale of which left a strong impression on all of our students.
Our journey home fortunately went smoothly. Our coach drivers were impressed with the behaviour and respect shown by our students and Simon Louagie commented that he enjoyed leading our group as everyone listened so well. High praise from people who meet a lot of school students. We will hold another Harry Patch Day on September 22nd (his special memorial day when his three close friends were killed and he was badly wounded), in aid of the RNLI.
{gallery}departments/History/belgium0715{/gallery}