Great News from Former Students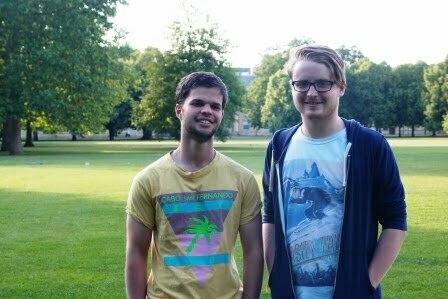 Pictured left are ex-students Tom Chudley and Joey Reiness who are both at Downing College Cambridge.
Joey has finished his 3rd year of a four year Science degree. He achieved a first in his 3rd year exams and was in the top 40 of all science undergraduates at Cambridge University.
Tom Chudley took his finals in May 2015 and was awarded a first class honours degree. In addition he won the Philip Lake prize for the best Physical Geography paper at Cambridge and the William Vaughan Lewis prize for his outstanding final year dissertation. Of all of the Geography students at Cambridge he was ranked 2nd in this year's exams and will continue his postgraduate studies at Downing College. Tom's graduation ceremony is on 26th June.
Both Tom and Joey are helping at the Downing College summer school from 23rd to 25th June. Eight of our current Year 12 students have won places at this residential. Those visiting Downing this year are Shannon Reiness, Abi Bunkum, Lucy Bourne, Ellie Self, Max Branson, James Royle, Rory Davis and Robin Hannaford. Places on the Downing College residential are highly competitive and our students have done brillantly to win their places. I am so pleased that Tom and Joey are willing to give up their time to show our students around Cambridge University.
Congratulations to both students on their superb exam results.