Wales Win Boys' Touch World Cup!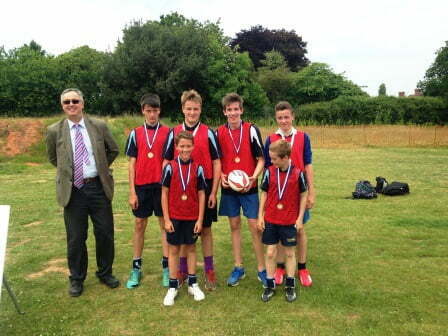 The boys' tournament culminated on Thursday lunchtime with Wales, captained by Year 10 student Jed Wright, and possessing try machine Year 7 Tobias Jefferson, crowned inaugural Clyst Vale Inter-School Touch Rugby World Cup Champions with a 9-8 win over Australia after extra time. Defeated semi-finalists Georgia beat Ireland in the Bronze medal game 5-4 to finish third overall. Throughout the four day tournament, the 16 teams conducted themselves brilliantly on and off the pitch, with an illustration of fair play and teamwork between the various year groups, mixed with a great competitive edge, ensuring some fantastic games.
Alongside the winners' medals handed out by honorary guest Sir Mr Endacott, the Player of the Tournament was handed to Australia's Year 7 Ben Parsons, for his outstanding contributions of skill, passing and tries scored throughout the tournament.
The Spirit of Rugby award went to Georgia's Year 10 Captain, Kain Cole for his attitude and for leading by example throughout the event. Congratulations to both.
The tournament was a great success with over 130 boys participating from Years 7 to 10. For some of the students this was their first taste of social competitive rugby. The levels of passing and handling skills were outstanding, and the touch games promoted the positive skills which are often missed out and so desperately needed in the contact version of the game.
Well done to the champions Wales:
Jed Wright ©, Tom Bradner, James Coles, Adam Beer, Rob Clarke, Tobias Jefferson.
{gallery}departments/PE/rugbywcboys{/gallery}