Duke of Edinburgh Gold Success
It gives us great pleasure to congratulate the following students on receiving their Gold Duke of Edinburgh Award at St James' Palace, London, on Wednesday 19 March: Rebekah Brewer, Philippa Robb and Rosa Treadwell (ex-students) and Katie Gorman (current Y13 student).
Both Rebekah and Philippa completed the Gold Expedition in the Mountains of Mourne, Northern Ireland, in August 2008.
The girls were exceptional students and we miss them lots.
Rosa completed her Gold Expedition in the Brecon Beacons in July 2012. She smiled throughout the four days and, with the aid of a lot of sponges, was able to carry the 18kg rucksack without pain! Katie has completed the award through the Open Award Centre in Exeter.
Congratulations to all.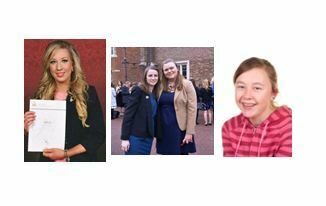 Here is Rosa's account of the day.
To get to St James Palace we caught the tube to the gorgeous Green Park in Central London. When we arrived, we joined about 400 people from all over the country who were about to receive their award as well. It was impressive going to St James' Palace as it is not usually open to the public. After the usual security checks, people from the South West were directed to the grandest room in the Palace – the Throne Room! It was quite stunning and very grand. The wait for the Duke of Edinburgh to arrive was nerve-wracking but when he did, he soon put everyone at ease by chatting to us and joking around.
Our Awards themselves were presented by Tony Rowe (Exeter Chiefs) who gave a motivating and inspirational speech afterwards. It tied in perfectly as Exeter Chiefs had won the cup just three days before.
The whole day was brilliant from beginning to end. It was a fantastic conclusion to all the days of walking across Dartmoor in the rain, the hours of practice for the skills, the time spent volunteering in the local community and so on. For me, doing the Duke of Edinburgh Award has been a great experience. I have met so many interesting people along the way and made good friends.
I am very grateful to both Miss Barratt and Mr Eales for all of their help and encouragement, not to mention the time they also invested to organise everything. I was proud to be one of only three people at the ceremony in the South West group to come from Clyst Vale Community College. A day at the Palace was a very fitting end to everyone's hard work and commitment along the way.
Thank you.