Year 13 Government and Politics Visit to Washington DC October 2013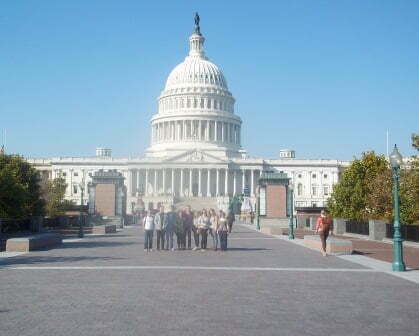 The A level Government and Politics trip to Washington DC this October half term was a huge success. The nine students involved, Amy Gale, Elle West, Hollie Trevallion, Zoe Williamson, Jemima Hardwick, Stefan Bryant, Frazer Loveman, Bradley Lavis and James Tancock, all gained a great insight into the working of the US government. At the invitation of Congressman Mac Thornberry (TX 13) we had a tour of Capitol Hill. We also visited the US Supreme Court and the Library of Congress. We visited the monuments to President Lincoln and President Thomas Jefferson and we all admired the new monument to Dr Martin Luther King.
In bright sunshine the city looked so beautiful. It was a hectic schedule and we walked for miles but we all had a great time.
We are all very grateful to our Finance Officer, Mrs Wendy Bowen, for giving up her half term to join the tour. Wendy is a superb administrator and was a wonderful tour joint leader.
{gallery}departments/Governmentpol/washington{/gallery}