STEM Group 4×4 Land Rover Challenge Success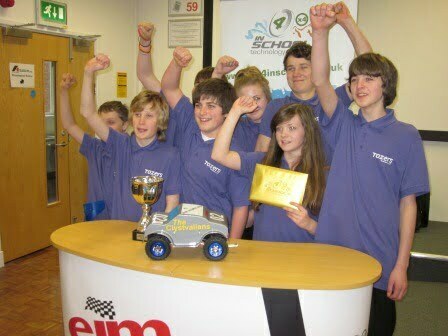 On Tuesday 26 February, a group of eight students attended Exeter University to participate in the regional qualification for the Jaguar Land Rover 4×4 Challenge.
A mixed group of students from Years 8 and 9 have been involved in a national project to develop a 4×4 remote controlled car and engineer it to be an improved vehicle. As part of this project, the students have made a new body shell and completed two electronic circuits to add automatic light and a tilt sensor/alarm. They have also made the vehicle into a four wheel steering 4×4 and built a set of challenging objects to test and demonstrate their skills in driving, and the improved features of the car. The group have had to design and produce many parts for the car using the laser cutter, and have learnt a lot about Engineering, Maths and Technology along the way. They also had to produce a 20 page portfolio showing off their work which was judged against all other teams from across the country.
The students impressed the judges and managed to qualify to attend "the BIG BANG" event at the ExCeL centre in London Docklands on the 14th March.
As part of the challenge, the students are also attempting to find sponsorship from the local community. So far they have received interest from Tozers Solicitors, but continue to look for support. If you feel you could help in any way, please contact Mr Hewlett () in the Technology department or Dr Turl () in the Maths department, or pop along for a chat after school.
{gallery}departments/DandT/4×4{/gallery}