Year 10 Girls Represent Devon Rugby U15's:
Congratulations go to the five Year 10 girls who represented Devon U15's recently in a series of games against other counties in the region.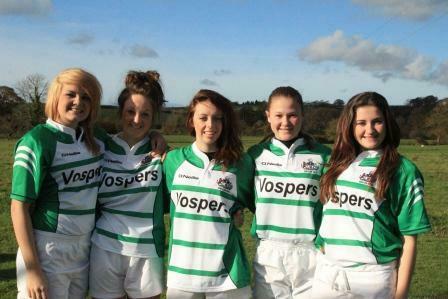 Pictured above from left to right are Kelsea Purchall, Izzy Farnsworth, Ailise Stack, Lucy Bourne and Ciara Burden. Lucy Bourne was named as County Captain for both games which is a huge honour and achievement. The girls will also have an opportunity to be selected for South West region in trials taking place around Christmas time. Well done to all of the girls for this magnificent achievement.
Lucy Bourne has written a report on the County's two games below:
Our first match was against Cornwall on 28th October and we won 47-14. Kelsea scored 4/5 tries!
Kelsea was Vice Captain and I was Captain.
Our second match was against Berkshire on November 18th and we won 34-20. Kelsea scored 4 tries.
I was Captain and another girl in the team was Vice. This match was much harder but we managed to keep ahead. All girls played brilliantly!

Ciara Burden – Hooker
Lucy Bourne – Number 8
Izzy Farnsworth- didn't play in the Berkshire Game but was a centre against Cornwall
Kelsea Purchall- Full Back
Ailise Stack – Wing and Centre