Top maths groups from Year 7 and Year 8 joined over 240,000 pupils from across the UK in taking part in the UK Mathematics Trust's Junior Maths Challenge last month. Nationally only 6% attain a gold certificate. The questions test mathematical thinking rather than testing particular subject areas, so it is very hard to prepare for.
Altogether 12 students from Year 8 and 10 from Year 7 gained certificates. Four of our students even attained a prestigious gold certificate. These were Louis Sullivan, Bethany McCord and Joe Harker in Year 8 and Matthew Davison in Year 7.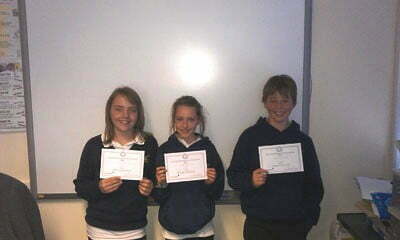 Well done to all students who gained certificates.