Year 7 Girls' Red v Blue Draw
Year 7 Girls illustrated their contact rugby skills during a lunchtime match at the end of last term. The Red team (in yellow stripes) captained by Amelia Worth, demonstrated great contact skills and evasive running with Lydia Rower, Ella Goodwin and Georgia Evans performing brilliantly.
The Blue team displayed equal talent, with Chloe Maycock, Fee Cassidy-Butler, Malli Smith and Autumn Hayler showing superb attitudes.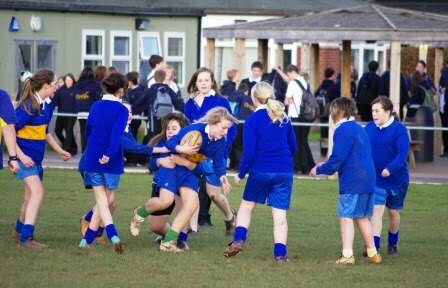 The game ended in a 20-20 draw, showing all the hard work the girls have put in at Rugby Club after school on Wednesdays, with many of them playing for Exeter Saracens RFC.
Well done to all of the girls involved.
{gallery}departments/PE/y7rugbydec11{/gallery}