Presentation of Clyst Vale Annual Awards
On Tuesday, Dr Bawn met with our Clyst Vale award prize-winners, to formally present them with their engraved perpetual trophies (which were announced in July), give them their engraved glass awards – which are theirs to keep – and take the opportunity of a photo-call.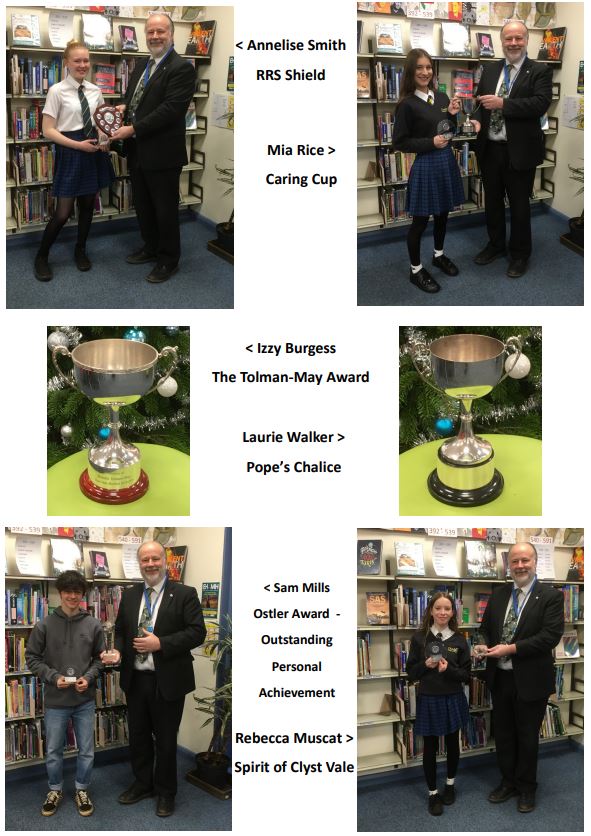 The Caring Cup, donated decades ago by former counsellor Dave Howell, is awarded to Mia Rice in Year 10. Mia has demonstrated a very supportive and caring attitude towards fellow students for four years now, including a role as a mental health ambassador; recognising this, she has been elected one of the Head Students for this year.
The Ostler Award for Outstanding Personal Achievement, donated by former students Matt and Chris Ostler, has been won by Sam Mills: Sam took first place in the National Schools event in the autumn and also won silver in the Schools International Athletics Board meeting. Sam runs middle distance events, in this case the 1500m; this is a superb achievement as there are thousands of highly competent athletes out there.
The Pope's Chalice for Performing Arts is awarded to Laurie Walker and thoroughly well deserved. Laurie is an incredible singer, actor and musician, as you will have seen if you went to Bonnie & Clyde in the summer. Laurie took both BTECs and both GCSEs in Music and Performance/Drama. He is an incredible role model for young male performers and always supportive. Laurie has been in every show since year 7 playing anything from a dumb New York cop to Joe Casey in Our House and most recently Clyde Barrow. Laurie has shown incredible commitment and dedication throughout his time here.
The Rights Respecting Shield, donated by the College Governors, is awarded to Annelise Smith in Year 10. This award is for a student who has made a real commitment to RRS issues, human rights, citizenship, or student voice. Annelise has done all of these things throughout her years at Clyst Vale, through active membership of Amnesty, several student groups, and through a strong personal commitment to these issues. Just one thing which marks her out is that she has done her utmost to keep this commitment going throughout lockdown.
The Tolman-May Award, donated by the Tolman-May family in memory of their daughter Maddie, a former Clyst Vale student, is awarded to a student who has overcome really serious obstacles, demonstrated resilience and perseverance well above most people, yet who remains a role model and support for others. The obstacles could be special educational needs, disability, physical health challenges, or mental health challenges. Our winner is Izzy Burgess, who has done really well to get to College on many days, but is also a great support to younger students experiencing the same issues as her.
The Spirit of Clyst Vale Award, originally donated by Devon County Council, is awarded to Rebecca Muscat. This award is for the student who has made most academic progress from Year 7 to the end of Year 9, but who also has contributed something extra to Clyst Vale during that time. So Rebecca has indeed made excellent progress, but has also contributed in other ways, particularly performing arts.
Our collection of annual awards is so different from traditional achievement and effort pots. As an ensemble, they summarise our values so well: caring, RRS, personal achievement, progress, resilience, the Performing Arts. It's all about recognising the individual, and that achievement is not just measured in grades.