Y9 Special Assembly: Eric Murangwa from the Ishami Foundation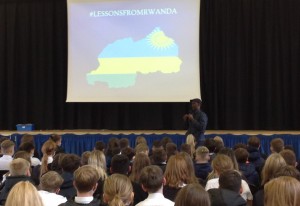 We were delighted to welcome Eric Murangwa from the Ishami Foundation on Wednesday 3rd November.  He spoke to our Year 9 students about his experiences of the 1994 Rwandan Genocide.
Eric was born in the eastern Rwandan city of Rwamagana, and is the eldest of six. His family ran a bar and restaurant in a town with a large Tutsi population. For decades the ruling Hutu nationalist government encouraged persecution and discrimination of Tutsi people.
Eric's family relocated to the Rwandan capital Kigali. It was here during his formative years that he developed a passion for football. His talent was quickly noticed, and he became known by his nickname Toto, and grew to become one of Rayon Sports' best loved players – a fact that would later save his life.
During the 100-day genocide, Eric's life was spared by Jean-Marie Vianney Mudahinyuka, otherwise known as Zuzu, a notorious leader of the Interahamwe militia – a man subsequently imprisoned for his role in the genocide. Why? Zuzu's passion was Rayon Sports.
Eric was taken in within the confines of the Hôtel des Mille Collines, where more than 1,200 took refuge during the genocide – a story famously retold in the 2004 film Hotel Rwanda.
This was an amazing opportunity for our students to develop their knowledge and understanding of this event. Students will continue to explore this in their Beliefs and Values and History lessons.
 Z  Brotherton
Head of Beliefs & Values
 To find out more about the work of the Ishami Foundation, which strives to use "genocide survivor experience to help us all connect to our common humanity", please click on the link below: