We had a superb evening on Wednesday 16th June, with our 10th annual Sports Awards evening.
It was not the full awards evening as we were unfortunately unable to include Year 9 and 10 this year due to Covid restrictions – but we were able to invite our Year 11 students.
Year 11 came back in force, creating a room full of sporting stars. We spoke about their journey as individuals and as sports teams throughout their time here at Clyst Vale so far.
We were honoured to have our Guest Speaker Harry Kite, Senior Professional Exeter City Footballer who joined us for the evening. He spoke eloquently about his career pathway and successes so far as well as well as plans for the future. The students were in awe of his presence and inspired by his positive attitude to sport and education.
During the evening Half and Full Colours are presented to students depending on their contributions and commitment. We gave out numerous Full Colours as this particular Year 11 cohort were a fabulously sporting bunch who have excelled even through Lockdown – and who have been great role models for the younger years.
The final award of the evening was the Sports Ambassador which goes to a student who is a true role model, who has shown full commitment during their time at Clyst Vale and who consistently goes above and beyond expectations. We as a PE department discussed this at length and arrived with the following nominations: Sam Walters, Joseph Tandy, Lara Gimbuta, Dom Boots-Hutchings, Luana Dart, Bethy Lawrence, Tom Massey and Emily Pattison.
To be nominated is a huge acknowledgement of a student and the esteem in which we hold them. The overall winner of the Sports Ambassador for 2021 went to Lara Gimbuta, by whom it was truly deserved.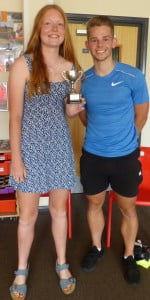 Lara with Harry Kite
This was a wonderful evening spent with some fabulous Year 11 students, who will be much missed.
It was a honour to be able to organise this evening for such a great bunch of students who will go onto even greater things; I hope one day there may be a guest speaker of our own emerge from this 2021 cohort.