Under 12 & U14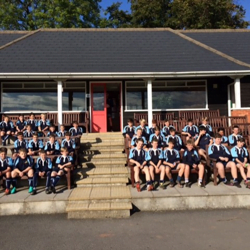 Rugby @ Blundell's School
Both U12 and U14 boys travelled to Blundell's School on the Wednesday before the half term break and thoroughly enjoyed the hospitality and warm welcome. On the pitch, both teams came off second best against well organised and drilled opposition, but both enjoyed the games and the weather!
The Under 12's, overseen by Mrs Elliot, lost 25-5, with the try coming from Tom Massey. The Under 14's ended up losing 27-7, with Charlie Sparkes crossing and Fin Potter putting over the extras.
U13 & U15 Girls Contact Rugby Tournaments @ Clyst Vale
Year 11 officials hosted these tournaments for the second year.
Both U13 and U15 girls were outstanding in their performances against local schools, which consisted of 7-a-side games across half a pitch.
A huge mention must go to the Year 11 officials, Maddy Ross, Rosie Martin, John Madams, Tom Bradner and Matty McCord for their job of refereeing and coaching of the girls over the two afternoons.  Thank you and well done.
Mr Pearce
Head of Green School
Teacher of PE