Y9 History Trip to the Somme and Ypres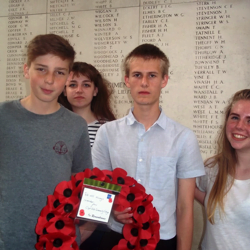 Our third visit to the Somme and Ypres Battlefields and Memorials took place from Sunday 10th July to Tuesday 12th July.  Twenty seven Year 9 students were involved, staying at the Peace Village near Ypres, and they all behaved perfectly. The coach driver took us on the trip in 2015 and asked to drive for us again in 2016 because "Clyst Vale students are so well behaved". We were able to visit the Menin Gate Ypres on our first evening and Fin, Thomas, Beth and Mia laid a wreath on behalf of all Clyst Vale students and staff.
We had a visit to the Somme Battlefields and it was so moving to be there just days after the 100th anniversary of the first day of the battle (1st July 1916).   We visited the Newfoundland regiment memorial park, and the Thiepval memorial to all of those who lost their lives and whose bodies have not been found. We then went to the Ypres battlefield sites and laid a wreath at the Harry Patch memorial in Belgium.
The students involved deserve praise for their mature attitude and excellent behaviour throughout the trip.
Mrs Padden
Head of History