Post 16 Students Visit Auschwitz Concentration Camp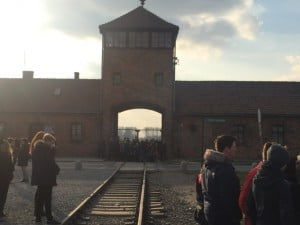 In March,  two Post 16 students from Clyst Vale were able to visit the Auschwitz Concentration Camp in Poland. The students, Kellie Ayres and Vimbai Mukonoweshuro, had attended two seminars in Exeter before their visit to prepare them for the sights they were going to see. They also met a survivor of the Holocaust. Kellie and Vimbai found it a very emotional experience but a visit that they will never forget.
1.1 million people died at Auschwitz, 90% of them Jewish.  Year 9 students at Clyst Vale are very fortunate; Kellie and Vimbai are going into every History group to tell the students about Auschwitz and to show them photos. Some of their photos are included below.
The girls' PowerPoint starts with a quote from George Santayana –
"THOSE WHO DO NOT LEARN HISTORY ARE DOOMED TO REPEAT IT"