Great Britain Bobsleigh Success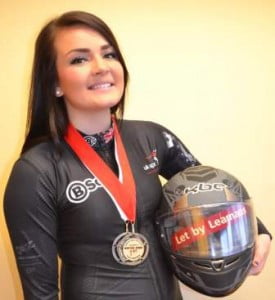 Kelsea Purchall, a talented ex Clyst Vale student, has worked extremely diligently and is currently travelling with the GB Bobsleigh team. Kelsea was already showing great promise when she took GCSE PE here a few years ago. In fact, she still holds the Sports Day record for the high jump and was also part of the winning 'National Contact 10 a-side Rugby' team in 2013 – which she managed to fit in alongside playing for Clyst Vale's Rounders, Rugby, Athletics and Basketball teams!
Since leaving Clyst Vale, ambitious Kelsea has been training on new grounds and challenging tracks, competing in Norway, Canada and Germany in her new venture, Bobsleigh. Last weekend she represented Great Britain in the World Youth Olympic Final where she performed an epic run, finishing not only in a medal position, but ranked 1st / Gold position. Kelsea is now training in Lillehammer and has recently qualified for the Youth Olympics.
Mrs Broomfield