Christmas Concert Celebration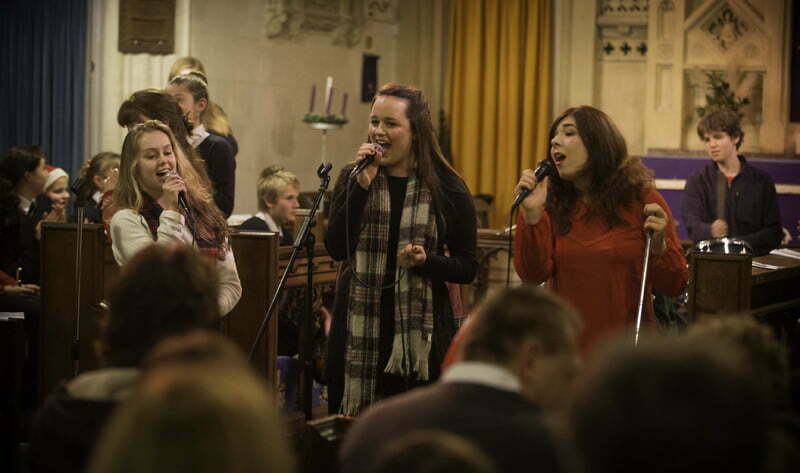 There's something special about the Clyst Vale Carol Service, and last night's was no exception. It is a genuine celebration of Jesus' birth, including traditional carols and relevant Bible readings, and held in a church. But it is also a mix of Christmas-related popular songs and instrumentals, which showcases what a brilliant and talented group of young musicians we have. Students are drawn from Year 7 to 13, and this was literally the case for the ensemble performing the introductory carols. The readings were a blend of the amusing and the thought provoking; Alex's harp playing was beautiful; the Jazz Band did an encore at the request of the vicar; the quintet performing 'The Dance of the Reed Pipes' sounded like they'd been playing together for years; Ellie's rendition of Hallelujah was superb, while Ella and Miranda's 'Somewhere Only We Know' was haunting.
A couple of paragraphs and a few photos cannot do justice to a very special event. The weather undoubtedly created a 'cosy ambience' as the Rev Dyson described it; the Jazz Band encore led to dancing in the pews; the power of music and song was really uplifting, and all the students involved should be very proud of their contribution. Everyone left with a smile on their face.
Thank you to the Rev Martin for allowing us to use Whimple Parish Church; to Mr Colin for coordinating the whole Carol Service; to Miss Williams, BTec Performance students and Mrs Sprenkel for organising and rehearsing the musical items; to Sam House, our new Performing Arts Technician (who doesn't officially start until January); to the PTFA for refreshments; to parents of performers for their support and transport.
{gallery}/departments/Citizenship/carolservice{/gallery}