Y7 Wind Turbine Masterclass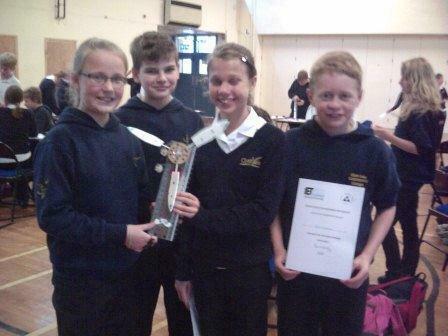 Approximately 40 Year 7 students were invited to attend a masterclass designing and building a wind turbine. The students had to work in teams of four to produce the most successful wind turbine. Being the most successful required many things: to be visually pleasing, to stand and to produce the most voltage.
All students completed the project successfully and produced some fantastic results. By taking part in this project and completing the relevant project work the students have all been able to gain Bronze CREST awards.
The students thoroughly enjoyed the day:
"We started off in groups talking about planning our wind turbine. Then they explained to us about our techs (which is money) so we could buy all the equipment we needed. Then we started to build. It was so much fun. We had to go in groups they picked to show us that in life we don't always get to work with our friends. After that we tested to see if it worked. Then we could readjust things if we wanted. I'm glad I got picked, it was a very fun day! And we'd all like to thank Miss Knight for organising this for us."
"Some children were picked to participate in an all day challenge. We were told that we had to make a wind turbine and try to make the most amount of electricity. Me and my friends really enjoyed the day because we were given a lot of independence. Also we were given a certain amount of money to buy our materials with. So we really were put in a real life situation. And it was really fun."
{gallery}departments/Science/windturbines{/gallery}