Kenya Partnership
International Partnership with Ndururumo High School, Nyahururu, Kenya
Ndururumo High School
In Kenya, state-funded education ends at age 14. Therefore, High Schools are fee-paying. Ndururumo is a boarding school, drawing students from mostly Central Province and Nairobi; fees are around £550 a year, which includes accommodation but not uniform. There are approximately 1000 students on roll, although the school is expanding. Students are taught in four forms, one per year group, leading to KCSE (Kenyan Certificate of Secondary Education). The Kenyan school year runs from January to December, so KCSEs are taken at the end of Form Four when students are 17-18, and are in effect a university entrance exam. The school is strictly sex-segregated, including teaching. Class sizes are generally around 50, occasionally larger with some KCSE option groups fewer in number. The curriculum is similar to a traditional English curriculum, with the obvious difference of Kiswahili as the first language. English and Maths are also core subjects. Students all study Science, Christian Religious Education, History or Geography, and have a range of Options. Subjects such as Art, Music, Dance and PE are not examined subjects, but there is an extensive network of inter-school competitions regionally and nationally. Education is highly valued in Kenya, so students work incredibly hard: many are in the Library or classrooms from 4.00 a.m.; many continue studying until 10.00 or 11.00 pm. All teaching is done in English, as are all exams; English is often a student's third language after their tribal tongue and Kiswahili.
Ndururumo High School was established by Dutch Protestants towards the end of the colonial period in the late 1950s. Following independence, the school fell vacant, before being bought by the Kenyan government and re-opened as Thomson Falls High School (Thomson Falls was the colonial name for the town, named after its landmark waterfall). Later, Thomson Falls became Nyahururu, and the school re-named Ndururumo. Both Kenyan names are onomatopoeic, referring to the river and the 74 metre waterfall. 
What's the latest news?
Twelve Kenyan students and three teachers visited Clyst Vale in Spring 2015. Our visit to Kenya in July was inspirational (see below), and we thoroughly enjoyed welcoming our guests.
Clyst Vale Scholarship
On our visit in July 2014, we were pleased to announce that Clyst Vale will support the fees and uniform costs for one student from Maina Primary School to attend Ndururumo High School. Maina is one of the Primary Schools we visited; it serves the slum area of Nyahururu, and families often cannot afford to pay for their children's secondary education. One scholarship is a drop in the ocean, of course: but, it will help one young person, and demonstrates our commitment to the partnership.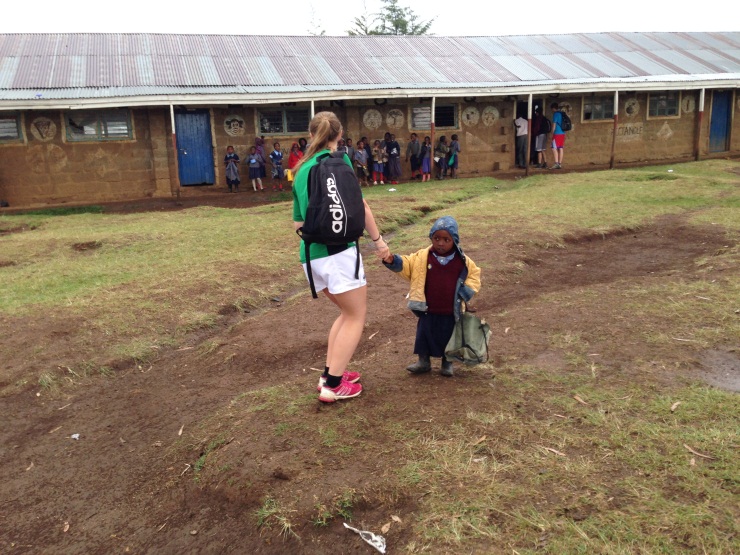 What is the International Partnership aiming to do?
In July 2011 Francis and I signed a partnership agreement (below). We are both delighted that we have sustained these principles over the intervening period.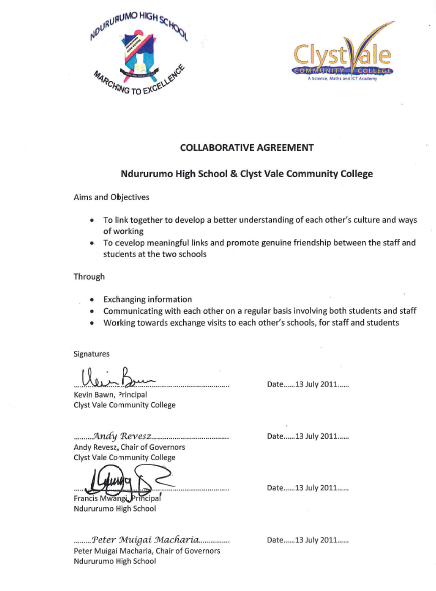 What has the Partnership achieved?
Link Activities 
We have held three teacher exchanges and two student visits. We have used e-mail and post to maintain links between visits, and support curriculum linkages.
Curriculum
There is a regular exchange of curriculum information, for instance a successful swap of "A Day in My Life" posters. Kenya is now a unit in our Year 7 Humanities course, covering aspects of its geography, history, economy and culture. The unit uses resources gained from our visits (more "real" than the text books or websites!). Kenya is also studied in GCSE Geography.  
Teaching and Learning 
Having visited Clyst Vale, Ndururumo invested in some ceiling-mounted projectors to enrich teaching approaches and increase variety. In some lessons, Kenyan teachers are using more student-centred approaches such as groupwork. In all of the teacher exchanges, teachers have taught or taken part  in lessons, as well as answering questions.
Cultural Understanding 
Globalisation and life in a developing country are complex issues, and each successive exchange has strengthened understanding. Teachers have learned a great deal about life in Kenya, the tribes, attitudes, literature, hopes and politics. Students have begun to explore the similarities and differences between the UK and Kenya, and the lengthy, in-depth conversations between students in July 2014 were a particular highlight of the visit. It is no exaggeration to describe the student visit as life-changing and inspirational, and we hope that our students will return to Africa one day. In the meantime, they have the first-hand knowledge to challenge stereotyped and simplified  views of Kenya.
Friendship
There is no doubt that the two communities are now friends. Individual teachers are in frequent contact with each other, and other aspects associated with friendship such as trust, help and concern have developed quickly and strongly. We hope that the reciprocal student visits will achieve the same thing, and that contacts will be made through e-mail and new technologies.
Clyst Vale – Ndururumo: the History
How did the Partnership begin?
In the summer of 2010 local residents Ken & Lorna Dyson (now very good friends of the College) visited a relative who was Chaplain at Ndururumo High School. Headteacher Francis Mwangi was very keen to establish an international link with the UK, so the Dysons contacted their local secondary school – Clyst Vale. We were delighted to seize this opportunity, and working with the Dysons invited Francis Mwangi to visit.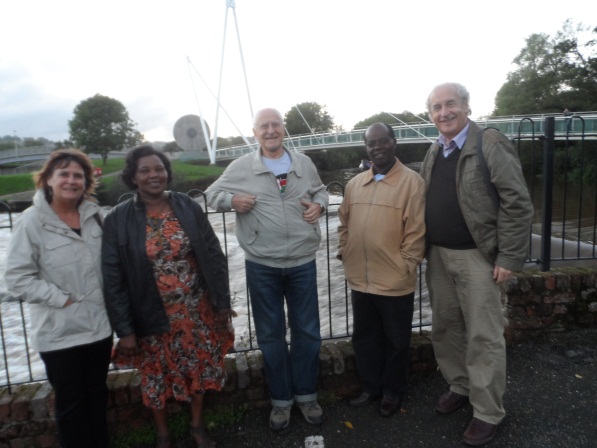 The Dysons with Rev David Green, formerly Chaplain at Ndururumo,
Faith Macharia and Francis Mwangi
Ndururumo to Clyst Vale Teacher Exchange 1, July 2011
Francis Mwangi, Jane Mugo and Joseph Waithaka visited Clyst Vale for three days in a week's visit, hosted by the Dysons. The purpose of the visit was to see whether a partnership could be set up. The stereotypical view of the English in Kenya is that we are cold, unfriendly, and not very welcoming to foreigners, but we dispelled this view with a genuine, warm welcome. As a result, both schools were happy to draw up the partnership agreement. As well as visiting Clyst Vale, the Kenyans spent time in Exeter, including a service at the Cathedral, Plymouth, and London.
Clyst Vale to Ndururumo Teacher Exchange 2, February 2012
During the February half-term of 2012, Mrs Grigg, Miss Brotherton and Dr Bawn made a return visit. This visit was to cement the partnership, improve communication between the two schools, and determine whether a student exchange would be possible. We were treated very well, staying in a staff house at the School.  At the School we visited lessons, answered dozens of questions, saw all aspects of how the School worked, and even taught a lesson or two ! In the evenings we chatted to a wide range of Ndururumo staff, and gained a wonderful insight into life in Kenya. It wasn't all school, though: we were taken to Thomson Falls and on a game drive.
Ndururumo to Clyst Vale Teacher Exchange 3, September 2013
We are very grateful to the British Council for a grant which supported the second visit by Ndururumo teachers to Devon. This time, Francis Mawangi was accompanied by James Macharia and Faith Macharia (no relation). Again, there were several aims for the visit; to look at our approaches to teaching, including Thinking Skills, to strengthen links in Geography, and to plan in earnest for a student exchange. Our visitors were hosted by Mrs Angell and her husband, who lived in Kenya for many years and have relatives there. This visit included four days in Clyst Vale, including a Deep Learning Day; trips into Exeter and to Dawlish Warren; Sunday in a Devon village; and a whirlwind tour of London.
Clyst Vale to Ndururumo: First Student Exchange Visit, July 2014
Twelve Clyst Vale students, Mrs Grigg, Miss Brotherton and Dr Bawn had a ten-day visit to Kenya from 5th to 1th July. Prior to the visit, students had engaged in a range of fund-raising activities, and took out a variety of presents, stationery and activities for primary school students. The visit was a tremendous success; Clyst Vale and Ndururumo students bonded easily, and the chat, conversation and Q-and-A sessions in lessons really cemented the cultural exchange. Our students visited Maina and Municipality 91 Primary Schools, experiencing the contrasts between Primary Schools, as Maina serves the slum area of Nyaharuru. Our itinerary had to change away from Mombasa because of UK travel restrictions, so we visited the Maasai Mara instead. This journey revealed the enormous contrasts in wealth and facilities within a developing country. There were fun days, of course: students fed giraffes, went on Lake Naivasha, visited Thomson Falls, and saw the "Big Five" animals across three game drives. It was an incredible trip, physically and emotionally demanding, and our students were unbelievable ambassadors for their families, College and country. Our hosts were equally fantastic, and we could not have been made more welcome.
One cultural similarity is, of course, cake. The one below was presented to us with a traditional dance as we left Ndururumo in July 2014.