The GCSE Celebration Evening in November was a great opportunity to see many of last year's Year 11 back, and celebrate the success of all students.  We now have some photographs from the evening to share with you!
One aspect of the event is to celebrate academic achievement, and congratulations go to Lara Gulec who won the award for Overall Achievement.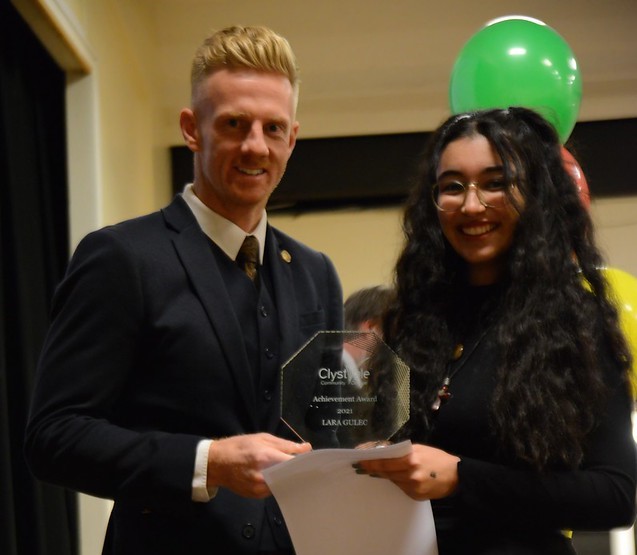 Lara Gulec accepting her award from David Hill
Congratulations also to Laurence Raeder for Overall Progress.
We are a comprehensive school, and are incredibly proud of all of our students: we are especially proud of those who have worked hard, persevered, overcome any number of difficulties, and met or exceeded their potential. This is reflected in several of the individual subject awards.
Guest of honour was David Hill, Paralympian in swimming and triathlon, now working with a portfolio of youth activities. David's speech was excellent. While his background is that of an elite sportsman, the general principles apply to all young people in whatever they do. He spoke of having a clear aim in life, having a positive group around you, focusing as much on "who do I want to be" as "what do I want to be" (I like that one – RRS and all that), developing a routine of good daily habits which keep you going when motivation begins to drop, and adopting a mantra for yourself: his was A -E for attitude, belief, determination and enjoyment of what you are doing. Of course, making up mantras is quite easy, the real challenge is to stick to them. It helped enormously that David's from East Devon and only ten years older than the students !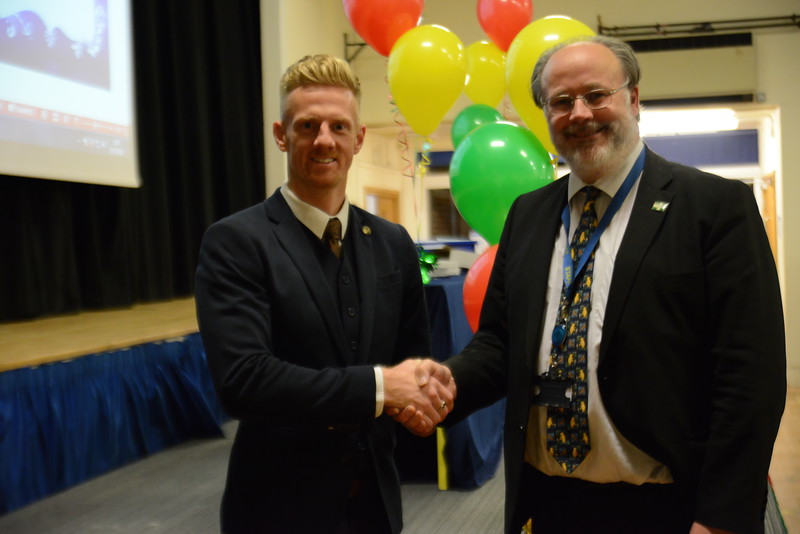 David Hill & Dr Bawn
Photo credits: Sue Draycott Photography Sue Draycott (suedraycottphotography.co.uk)