South West Apprenticeship Fair and National Apprenticeship Week
On Wednesday 29th January, 30 Year 11 and Year 12 students attended the Apprenticeship Fair at Westpoint.
This was an opportunity for the students to see what Apprenticeship opportunities are on offer in the South West and talk to apprentices from a number of sectors.  They were also given the opportunity to try out some of the skills that they will require to be successful in their pursuit of an Apprenticeship.
We look forward to supporting our students in applying for Apprenticeships when they leave CVCC in Year 11, or as an alternative to Higher Education at the end of Year 13.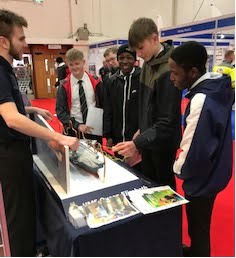 Students at the Apprenticeships Fair
The following website offers parents information about the possibilities available – which cover 1500 job roles!
Click the button below for more information:
For further details, please click the button below to download the 'Amazing Apprenticeships' parents' pack from their website.

Year 10 students have attended an assembly on Apprenticeships run by Careers South West; we have been discussing the benefits of apprenticeships with KS3 students this week, too, as National Apprenticeships Week 2020 runs this week, from from 3rd – 9th February.
Mrs Bennett 
Careers Lead