"A hole has appeared at Clyst Vale………..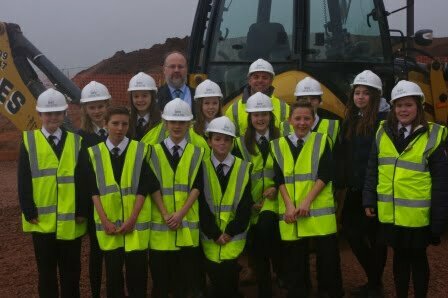 ……..and the Principal is looking into it". More seriously, we're thrilled that work is now under way on the new £2.4m classroom block. This will be for Science and Humanities teaching, as well as providing new changing rooms for PE and Sport. Students will be delighted with this, because while the Sports Hall changing is fine, the ones by the Main Hall are not very nice.
We took the Year 7 Tutor Captains for a quick look around the site, where they met Steve Craddock of Devon Contractor Services who are building the block. Year 7 of course is our youngest current year group, who will benefit most from the new building. The design was by Grainge Architects, although it's a bit early to appreciate.
The project has been funded by the Department for Education's Academies Capital Fund, and is part of our three-phase master plan to transform Clyst Vale's site and buildings, subject to further funding of course !. We are committed to staying in Broadclyst, so improving our facilities is exceptionally important to us in justifying that decision.
In 2009 we had 23 wooden temporary classrooms: by the end of this project we won't have any. It's better for everyone and – because of the new building requirements – it will be much more heat efficient, save energy costs and be better for the environment.
Parents should not be concerned about safety or disruption, either. Because of the exact location, there is no disruption except for some building noise at one end of the site. In terms of safety, the work is contained in a special compound, with a fenced access road. There is access to part of the field at all times, and to all of the field for PE lessons and supervised fixtures.