Teaching, Learning & Assessment
Our curriculum aims to give our students a broad experience of the Sciences in Years 7 to 9 and then build on this in Years 10 and 11 before specialising in Years 12 and 13.
In Science, we are committed to:
Variety in teaching and learning strategies. Science lessons take many forms, from the formal and didactic, to pupil centred investigation, and we aim to enrich the learning experience by using as wide a range as possible.
Participative learning. Practical work is at the heart of science teaching and we are working to further expand our use of ICT. Research and library work is included both in lessons and as homework.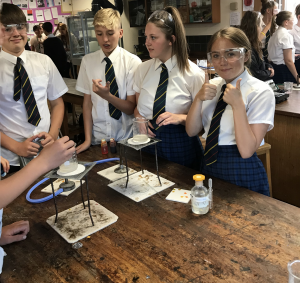 Differentiation. Matching work to pupil's ability is an essential part of teaching and has always taken place through the response of teachers to individuals. It is also a central part of lesson planning. The new KS3 scheme of work has differentiated outcomes and allows all students to make progress. Teachers will work within this as appropriate for the students in each class.  Students are encouraged to keep track of their progress through target setting and regular feedback from assessment tasks.
Combined Science – Assessment Schedule
Biology: Paper 1

1 hour 10 mins

60 marks

16.67%

Chemistry: Paper 1

1 hour 10 mins

60 marks

16.67%

Physics: Paper 1

1 hour 10 mins

60 marks

16.67%

Biology: Paper 2

1 hour 10 mins

60 marks

16.67%

Chemistry: Paper 2

1 hour 10 mins

60 marks

16.67%

Physics: Paper 2

1 hour 10 mins

60 marks

16.67%
Separate Sciences – Assessment Schedule
CSE Biology
GCSE Chemistry
GCSE Physics
Paper 1:

1hr 45mins

100 marks

50%

Paper 2:

1hr 45mins

100 marks

50%

Paper 1:

1hr 45mins

100 marks

50%

Paper 2:

1hr 45mins

100 marks

50%

Paper 1:

1hr 45mins

100 marks

50%

Paper 2:

1hr 45mins

100 marks

50%