Post 16 Parents
The information below is provided by website "The Parent's Guide To" – and contains numerous resources that we think you will find informative and helpful.
The website itself can be accessed by clicking on the logo below:
Time has sped by since our last newsletter to you in May and we hope you're keeping well during these exceptionally busy times for schools. To help you support parents who may be worried their children have got behind during the last few months, and with an eye on the rapidly approaching summer break, we've created The Parents' Guide to: Getting ahead during the summer holidays, which is filled with ideas on what students can do over the summer to help them prepare for what they want to do in the future.
Free guide: The Parents' Guide to: Getting ahead during the summer holidays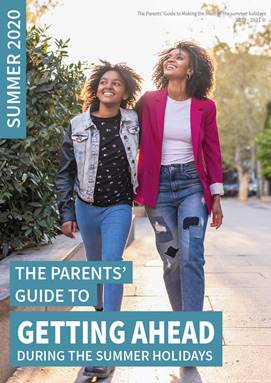 Written for parents of teenagers between 15 and 18 to read over the summer holidays, this guide includes information on how their children can:
Find out more about themselves and what they like;
Develop life skills;
Stand out from others;
Decide which subjects to study next;
Understand apprenticeships;
Select the right university and the UCAS application process;
Write a personal statement; and
Other options if academic learning is not for them.
This guide is not written so parents do the work for their children! It's a source of ideas and inspiration so they have plenty of suggestions to help encourage and direct their children.
Please share this free guide with any parents (or schools) you think may find it useful or direct them to www.theparentsguideto.co.uk/whats-next so they can download it themselves.
Support for your parents:
The Parents' Guide to provides a range of free support for both parents of sixth form students as well as those taking GCSEs, including guides, useful articles, a Q&A system where we answer questions personally and a blog with the latest news. We cover all the important issues and will continue to provide timely and relevant information over the coming few months, as well as answer questions, to help support parents during these challenging times.
Your parents may find this helpful, especially when school is closed, so do add a link to our website ww.theparentsguideto.co.uk/parents  on your school or careers recommended / useful links page.
Upcoming events in June:
Awareness days, weeks and months are often an excellent opportunity to write to parents, whether in a newsletter, social media post or blog with timely, relevant content that can be planned well in advance.  Coming up in June:
8th-14th – Diabetes week
A week dedicated to raising awareness for diabetes and to help raise funds
6th – 14th – Bike Week
An annual celebration to showcase cycling and the benefits of being more active
8th-12th – My week of work
A programme of activities which link to the workplace, organised by Oak National Academy
8th – 14th – Carers Week
To recognise the difficulties and challenges faced by carers and the contribution they make to others
15th – 20th – Small charities week
To celebrate and showcase the work of small charities
15th – 21st – Refugee Week
To celebrate the contribution of refugees to the UK
22nd – 28th – National Picnic Week
To promote the benefits of eating outside and with other people