English

Your ability to use and to interpret language has a direct influence on your ability to control your life.
We all think and communicate using the English language, and in many respects language controls our sense of the world as we know it. Developing the perceptiveness and sophistication of reading skills, and nurturing the range and command of spoken and written English, are the key aims of the English Department at Clyst Vale. The teachers in the Department endeavour to deliver lessons in a creative and engaging way for all students whatever their ability. We aim to pass on our passion for English and we hope that it will continue into adulthood for our students.
Throughout their time with the English Department, students will be expected to read regularly across a broad range of texts and genres.
In Year 7 and 8 the focus is placed on improving the technical accuracy of writing, developing a critical vocabulary that enables students to explore how writers achieve particular effects, and on encouraging them to become more self-aware and mature as creative writers.
In Y9 students are encouraged to develop skills that will be required at GCSE. They will analyse a variety of literary and non-literary texts and craft relevant responses to them. Establishing these foundations in Y9 enables students to make a smooth transition to GCSE in Y10 and 11. All students are taught English up to the end of Year 11.
Students may choose to study English at A Level, and there is a good blend of those who will continue studying English at university and those specialising in other subjects who recognise the importance of refining their analytical skills and the precision of their expression. Those who study English at Post 16 find it richly rewarding to read more challenging texts and to approach these from different theoretical perspectives. Throughout the two year course students are taught to think conceptually about texts, theories and the relationships between them.
There are many opportunities for students to enhance their study of English whilst at Clyst Vale. These include trips to the theatre, drama workshops, visits from writers, BBC School Report, public speaking and the College Newspaper Clyst Mail – May 2016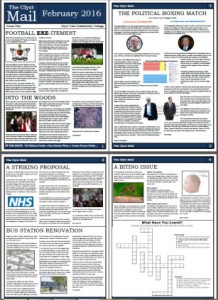 KS3 Curriculum Plan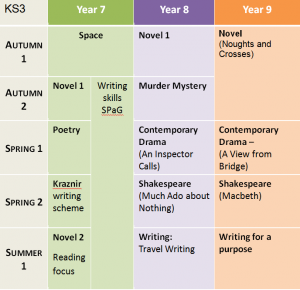 KS3 Reading List
Recent Releases
Samantha Alexander – Racing Start
David Almond – Counting Stars
Neil Arskey – Playing on the Edge
Malorie Blackman – Dangerous Reality
Lauren Brooke – Heartland
Meg Cabot – The Princess Diaries
Eoin Colfer – Artemis Fowl
Trevor Colgan – The Stretford Enders
Susan Cooper – King of Shadows
Gillian Cross – Tightrope
Jamila Gavin – The Track of the Wind
Adele Geras – Watching the Roses
Anna Halam – Dr Franklin's Island
Frances Mary Hendry – Chains
Kevin Crossley Holland – At the Crossing Places
Anthony Horrowitz – Point Blanc
Catherine Macphail – Bad Company
Sue Mayfield – Blue
Margaret McAllister – Ghost at the Window
Ishbel Moore – Daughter
Philip Pullman – The Amber Spyglass
Celia Rees – The Witch Child
Louis Sachar – Holes
Marcus Sedgwick – Witch Hill
Paul Shipton – The Man Who Was Hate
Suzanne Staples – Shiva's Fire
Robert Westall – The Stones of Muncaster Cathedral
Benjamin Zephania – Refugee Boy
Have you considered Audio Books?
J K Rowling – Harry Potter and the Chamber of Secrets
David Almond – Heaven Eyes
Kevin Crossley Holland – The Seeing Stone
Alex Rider series – Anthony Horowitz
Award Winners
David Almond – Skellig
Rachel Anderson – Paper Faces
Malorie Blackman – Hacker
Tim Bowler – Shadows
Gillian Cross – Wolf
Berlie Doherty – Dear Nobody
Anne Fine – Flour Babies
Frances Mary Henry – Chandra
Philip Pullman – The Amber Spyglass
Robert Swindells – Stone Cold
Sue Welford- The Night After Tomorrow
By Royal Command – Charlie Higson
Old Favourites
Louisa M Alcott – Little Women
Charles Dickens – A Christmas Carol
Ann Holm – I am David
Laurie Lee – Cider With Rosie
Arthur Ransome – Swallows and Amazons
J.R.R.Tolkein – The Hobbit
Sue Townsend – The Secret Diary of Adrian Mole
Key Stage 3 Classics
Jane Austen – Pride and Prejudice
Charlotte Bronte – Jane Eyre
Charles Dickens – Great Expectations
Sir Arthur Conan Doyle – The Hound of the Baskervilles
William Golding – Lord of the Flies
Ernest Hemingway – The Old Man and the Sea
Robert Louis Stevenson – Treasure Island
Jonathan Swift – Gulliver's Travels
H.G. Wells – The Time Machine
Lord of the Flies – William Golding
Easy Reads
Ros Asquith – The Teenage Worrier's Panick Diary
Stephen Elboz – Ghostlands
Leon Garfield – Mr Corbett's Ghost
Adrian Henri – Spooky Poems
Knife & Packer – Teachers: The Naked Truth
Dav Pilkey – The Captain Underpants Extra Crunchy Book of Fun
Jacqueline Wilson – The Dare Game
Dianna Wynne Jones – Howl's Moving Castle
Film & TV Books
Gillian Cross – The Revenge of the Demon Headmaster
Phillipa Pearce -_Tom's Midnight Garden
Paul Ruditis – Sabrina, The Teenage Witch
Who Wants to be a Millionaire? (Junior Challenge)
Making Robot Warriors From Junk
Planet of the Apes
Here Be Monsters – (Buffy. The Vampire Slayer)
Non-Fiction
David Burnie – The Kingfisher Illustrated Animal Encyclopaedia
Terry Deary – Horrible Christmas (Horrible Histories)
Neil Grant – The Oxford History of the World
Eileen O'Brien – Internet Linked Introduction to Music
Chris Powling – The Book About Books
Lesley Sims – A Visitor's Guide to Ancient Rome
Space: Earth: Bugs (Marshall Minis)
Touching the Void Joe Simpson
Multicultural Books
John Agard – Get Back Pimple
Lynne Reid Banks – One More River
Rosa Guy – The Friends
Bette Greene – Summer of My German Soldier
Esther Hautzig – The Endless Steppe
Beverley Naidoo – No Turning Back
Morton Rhue – The Wave
Hans Pieter Richter – Friedrich
Barbara C. Smucker – Underground to Canada
Robert Swindells – Smash
Mildred Taylor – The Road to Memphis
James Watson – Ticket to Prague
KS4 Curriculum
KS4 for current Y11 students (legacy GCSE)
Sets 1 to 3

(2 GCSEs)

English Language iGCSE

Exam Board AQA

English Literature GCSE

Exam Board Edexcel

Sets 4 & 6

(2 GCSEs)

English Language iGCSE

Exam Board Cambridge

English Literature GCSE

Exam Board Edexcel

Sets 7 & 8
English GCSE

Exam Board Edexcel

Set 9
Entry level certificate in English

Exam Board AQA
New KS4 (current Y10 students)
Sets 1 to 6

(2 GCSEs)

English Language GCSE

Exam Board Edexcel

English Literature GCSE

Exam Board Edexcel

Set 7
Set 8
Entry level certificate in English

Exam Board AQA
Presentation on new Language and Literature GCSE courses
To enhance students vocabulary and engagement with the written word, we have created a list of books that may be suitable for wider reading at KS4
KS4 Reading List
This is a list of texts that have been influential to a number of teachers at school- male and female. 
The Rachel Papers – Martin Amis (Fiction)
Mother Tongue – Bill Bryson (Non-Fiction)
A Brief History of Britain – Andrew Marr (Non-Fiction)
1984- George Orwell (Fiction)
Wild Swans- Jung Chang (Fiction)
Chaos- (About Chaos Theory) -James Gleick (Non-Fiction)
Dirk Gently's Holistic Detective Agency (Fiction)
Hitchikers Guide to the Galaxy- Douglas Adams (Fiction)
The Time Traveller's Wife- Audrey Niffeneger (Fiction)
The Curious Incident of the Dog in the Night- Mark Haddon (Fiction)
Catch 22 – Joseph Heller (Fiction)
To Kill a Mockingbird – Harper Lee (Fiction)
The Catcher in the Rye – J D Salinger (Fiction)
Heart of Darkness – Joseph Conrad (Fiction)
Long Walk to Freedom- Nelson Mandela (Non-Fiction, autobiography)
Roots – Alex Haley (Fiction)
The Bookseller of Kabul- Asne Seierstad (Fiction)
Dreams from my Father -Barack Obama (Non-Fiction, autobiography)
Of Mice and Men- John Steinbeck (Fiction)
The Book Thief -Markus Zusak (Fiction)
Birdsong-Sebastian Faulks (Fiction)
Sophie's World- Jostein Gaarder (Fiction)
Lord of the Rings – JRR Tolkein (Fiction)
The Belgariad – David Eddings (Fiction – 10 books in series)
The Colour Purple- Alice Walker (Fiction)
A Streetcar Named Desire- Tennessee Williams (Fiction)
The Lovely Bones- Alice Seabold (Fiction)
Eat, pray, love- Elizabeth Gilbert (Fiction)
Prime of Miss Jean Brodie- Muriel Spark (Fiction)
Pride and Prejudice – Jane Austen (Fiction)
Frankenstein- Mary Shelley (Fiction)
The Other Hand- Chris Cleve (Fiction)
Never Let Me Go- Kazuo Ishiguro (Fiction)
The First 15 Lives of Harry August- Claire North (Fiction)
Moriarty- Anthony Horowitz (Fiction)
KS5 Curriculum
Year 12 (New A Level – AQA English Literature A)
Year 13 (Legacy AQA English Language and Literature B)
 Autumn 1

§  The Great Gatsby  & Jane Eyre

Autumn 2

§  The Great Gatsby & Jane Eyre

Spring 1

§  Othello & Post 1900 poetry

Spring 2

§  Othello & Post 1900 poetry

Summer 1

§  Revision preparation for AS exam

Summer 2

§    Coursework production based on two texts one modern, one from literary heritage.

Autumn 1

§  ELLB4 Text Transformation

Autumn 2

§  ELLB4 Text Transformation creation/seminar sessions

Spring 1

§  ELLB3 The Crucible/ Talk in Life and Literature

Spring 2

§  ELLB3 The Crucible/ Talk in Life and Literature

Summer 1

§  ELLB3 REVISION The Crucible/ Talk in Life and Literature

Summer 2

§  ELLB3 EXAMINATION The Crucible/ Talk in Life and Literature
| | | |
| --- | --- | --- |
| Mrs V Oldfield | Head of English |   |
| Miss S Watt | KS4 co-ordinator |   |
| Miss C Haynes | KS3 co-ordinator |   |
| Miss I Quick | Teacher of English, SEN |   |
| Mr N Simpson | Teacher of English, Literacy Co-ordinator | |
| Miss N Gilborson | Teacher of English | |
| Mr C O'Brien | Teacher of English |   |