Health and Social Care
Health and Social Care is a popular option choice at GCSE. In Health and Social Care we study all aspects of development throughout life – from cradle to grave.
At A level Health and Social Care the topics covered are broad ranging and are applied to real life and workplace situations.
Staff
| | |
| --- | --- |
| Miss H Chandler | |
| Mrs N Bennett | |
The Cambridge National Certificate in Health & Social Care is equivalent to GCSE. This qualification takes an engaging, practical and inspiring approach to learning and assessment. The course is industry relevant and geared to key sector requirements and suits a broad range of learning styles and abilities. The course has been created by the exam board (OCR) in partnership with teachers, education specialists and industry-leading employers to create a qualification that offers students a solid foundation for their future studies and careers; the provision of essential knowledge, combined with transferable skills and tools to improve their learning in other subjects, will enhance their employability when they leave education and contribute to both their personal development and future economic well-being. The students are challenged by introducing them to demanding materials, encouraging independence and creativity, and providing tasks that engage with the most taxing aspects of the National Curriculum. This includes the "Essential values of care" and the current legislation requirements and the importance of softer skills such as communication. The course has a large vocational emphasis and is a good grounding for anyone interested in working within the public sector such as Hospitals, Youth service, Police and Social Care.
In Year 10 the units studied are: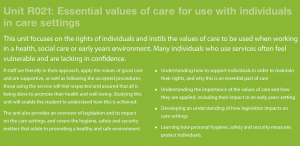 This is assessed by external examination (1 hour exam) at the end of Year 10 (with options to retake in Y11 – best result counts) and accounts for 25% of the final grade.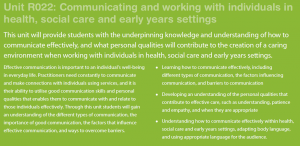 This is a coursework unit which is completed in Year 10; it is internally assessed and externally moderated. It accounts for 25% of the final grade. It takes the form of a training pack for care workers and some practical activities which are assessed by witness statements.
In Year 11 two further coursework units will be studied which each account for a further 25% of the final grade. These are likely to be: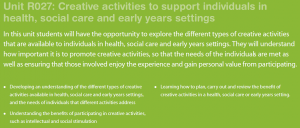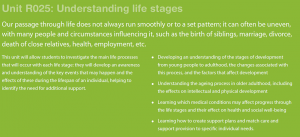 Current Year 11 Course
In Year 11 the students are taking OCR GCSE in Health & Social Care
Unit 1: Health, Social Care and Early Years Provision – tested by an extended controlled assessment which takes place during Spring and Summer of Year 10 and the Autumn term of Y11
Unit 2: Understanding Personal Development and Relationships – tested by a 60 minute examination at the end of the course
AS
The AS course in Y12 consists of three modules. They are:
Unit 1: F910: Promoting quality care – tested
Unit 2: F911: Communication – coursework
Unit 3: F912: Promoting good health – coursework
Each module is given equal weighting (33% each).
QWC (quality of written communication) will be taken into account across all three units.
Externally examined unit – Promoting Quality Care
This unit is exam assessed (one 90 minute exam in May/June)
This unit covers:
Attitudes and prejudices.
Rights and responsibilities of people who use services and providers.
Facilitation of access to services.
Values of care.
How organisations promote quality care.
Coursework Units
For each coursework module (one for communication; one for health promotion) a portfolio of work is produced. Each portfolio is broken down into four sections, or AOs (Assessment Objectives). The focus of each AO is:
AO1 – General.
AO2 – Applied to a particular setting.
AO3 – Research.
AO4 – Practical and evaluation.
Communication in Care Settings
This unit covers:
Types of communication.
Factors that support and inhibit communication.
Communication skills.
Theories relating to communication.
Interaction with the person/people who uses services/ practitioner(s)
For this unit students will have a one week research placement at a local health, social care or early years setting – the research carried out will form the basis for the coursework
Promoting Good Health
This unit covers:
Perspectives of health and well-being
Preventative measures and job roles
Research, produce, and run a small scale campaign within the school
Evaluate your campaign.
For part of this unit students work in small groups to research, carry out and evaluate a health promotion campaign in the college environment.
A2
To complete the qualification at A2 there are three further units which are covered at the end of Year 12 and in Year 13
Care Practice and Provision
This unit covers:
Meeting the needs of service users at a local level.
Effects of national policy and legislation on care practice and provision.
How quality assurance is promoted by services.
Conducting research relating to quality assurance.
How services and practitioners meet individual needs.
Ways in which practitioners within services work in multi-disciplinary teams.
This module is portfolio assessed.
Anatomy and Physiology in Practice
This unit covers:
Respiratory system
Cardio-vascular system
Digestive system
Reproductive system
Renal system
Musculo-skeletal and neurological systems.
Lifestyle factors
The normal function of each system is studied and also one dysfunction per system, with the effects on health and well-being
This unit is exam assessed (90 minute exam in June of Y13).
Mental Health
This unit covers:
The concept of mental health
Types of mental illness
Causes of mental illness
Effects of mental illness
Preventative and coping strategies
Support for people who use services with mental health needs.
Mental health in the media.
This module is portfolio assessed.
Following the A level course you can enter higher education; seek employment with further training attached, e.g.: NVQs level 2 and 3, or enter the employment market. Typical career paths include: nursing, midwifery, teaching, physiotherapy, occupational therapy, child care, social work, working with disabled people and youth work.