Art & Design
Art & Design Curriculum Intent Statement
'There is no people in all the world without art'    Gombrich
Art education is vital in giving students an understanding of our culture and the traditions that it is rooted in, 'enquiry, curiosity, and creativity are fundamental to learning and are stimulated by cultural experiences'.  Art allows pupils to think about moral and religious issues which have often been subjects for artists.  Our art curriculum at Clyst Vale gives students opportunities to look at different societies and cultures throughout history, giving students alternative views on reality and ways of doing things.
Art can bring life to something which was spoken or read, thought or felt.  Rather than being merely an activity which is a leisure pursuit, art enriches our culture and is central to our lives.  In order to make sense of the increasingly visual world we live in we must learn to become visually literate.
Using the National Curriculum as a basis the department aims to:
Provide a challenging, balanced, stimulating curriculum which promotes students' understanding of themselves, their identity and personal culture by building on their own interests and prior learning.
Develop in our students an awareness of how art and design is firmly rooted in a culture and how art and design affects our everyday life and our being in the world, through visual and tactile forms.
Provide methods of teaching and learning such as formative assessment which enable students to learn how to learn through structured programmes of study and differentiated learning targets.
Develop visual literacy, aesthetic understanding and competent use of the formal elements.
Help students to take part in dialogue with themselves and others about art by identifying what is common and what is distinctive in their own art and the art of others.
Develop students' artistic vocabulary and language skills to enable them to formulate their own ideas and opinions when reviewing, modifying and evaluating work and setting personal targets.
Teach transferable practical and cognitive skills for realising ideas, making their own work and manipulating materials, tools and techniques.
All this is fostered through a caring and supportive ethos which puts strong and positive relationships at the heart of everything we do.  Students work and the confidence and sense of worth it engenders is celebrated throughout the college and wider community.
Subject information
Art & Design is a highly successful subject at Clyst Vale and has a central role in the College's achievements. Progress made by students is dramatic in KS3, and both GCSE and A Level results reflect a high level of achievement in comparison to national and local pass rates. The department currently consists of one full time and three part-time members of teaching staff, each bringing high levels of expertise and experience to our subject area.
Learning_Journey_Curriculum_Map_-_Fine Art
Staff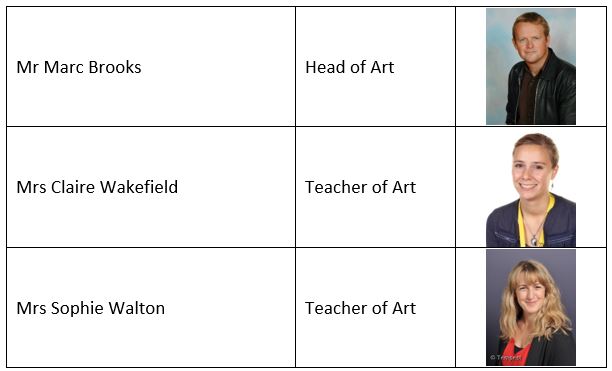 Key Stage 3
At Key Stage 3 students are taught for two hours per fortnight. Each lesson is an hour long and both lessons may be timetabled within the same week.

The curriculum is structured so that delivery of the National Curriculum is managed in a way which allows students to be introduced to a variety of work across time and place through progressive schemes of work which focus on a variety of key concepts and themes in Art.

Students take baseline art tests (BArts) at the beginning and end of each year in order to measure progress and provide targeted individual support that enables every student to progress.

KS3 schemes of work
Key Stage 4
Students opting for GCSE Fine Art or GCSE Photography have five hours of classes per fortnight in Year 10 and Year 11.

The GCSE course follows the Edexcel Art syllabus. Both courses are very popular with four classes in each year routinely exceeding national and local levels for attainment and progress.

Students must submit two projects for coursework assessment which makes up 60% of their final GCSE grade and a controlled test over ten hours, which makes up 40% of their final grade.
Key Stage 5
Students receive eight one hour lessons during the course of the two week timetable. Students are expected to match this contact time with eight hours of independent study time during the course of each fortnight.

Courses are offered in Fine Art and Photography with both attracting large numbers of candidates and excellent pass rates at the end of the course.

Photography includes artwork in film, video and digital imaging. Frequently, the techniques of the different disciplines are used to convey messages and create works in other graphic disciplines, such as television advertisements and the use of photographic images in magazines, books, advertisements and in digital forms.

On this course the emphasis will be on digital photography, animated film and video.

Fine Art includes drawing, painting, photography and sculpture. Frequently, the techniques of the different disciplines are used to convey messages and create works in other disciplines, such as installation or video. Research and analysis of artists work forms the basis of all coursework and is used to inspire and inform the students work.

On this course the emphasis will be on the formal elements of art and the development of individual responses based on the project theme and artist's studied, all students will take part in peer and group assessment and critiques of their work at regular intervals.
Art Gallery
Welcome to our Art Gallery!  We are delighted to invite you to browse through the following pages.
Art and Photography are very popular subjects at Clyst Vale, and we are proud of the incredibly talented and creative artists that we have within the school.  During lockdown this enthusiasm and engagement with the Arts continues to flourish.  Please enjoy some of the excellent work that has been posted to the Art team over the last few weeks.
Update: March 2021
During the course of the latest lockdown Clyst Vale students have again shown outstanding commitment and creativity with their Art and Photography work. Engagement with the work has been even better than the previous lockdown, and the artwork produced by our students has been of an extremely high standard.  Well done Clyst Vale artists -enjoy looking through our updated virtual Art gallery.
Mr Brooks 
Key Stages 4 and 5
Key Stage 3
Click on the link below to watch an intriguing time-lapse video of a KS3 artist creating a striking sketch: